USA PLACES WINNING BID FOR MAGIC-BELLE VAN 'T ROOSAKKER AT 95,000 EURO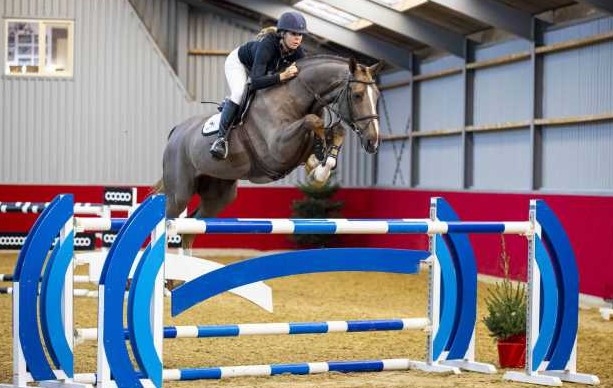 Top-seller Magic-Belle van't Roosakker (Elvis ter Putte x Ogano Sitte). (Foto Digishots)
Since the start of Youhorse.auction in the middle of the first Corona lockdown several hundreds of showjumping horses, foals and broodmares were sold via the online platform from Alan Waldman and Mario Everse. On Tuesday-night 22 December they celebrated the end of the first auction year with a record price of 95,000 euro.  After a fierce bidding duel between Canada and the USA, the 9-yr-old Magic-Belle van 't Roosakker (Elvis ter Putte x Ogano Sitte) will fly to the stables of an American Grand Prix rider and trainer.
"When you manage to sell horses up to 95,000 euro online, you can not be anything but pleased. The day before the 3-yr-old Dothan Z went for 65,000 euro to Panama. We had been busy handling the requests before the auction and the website was very often visited by people from all over the world", say Alan Waldman and Mario Everse.
A lot of fun
Magic-Belle van 't Roosakker was, as an 8-yr-old, one of the older horses of the auction evening. He has been (inter)nationally placed op to 1.35m level and is ready to go to the next level. "We have had a lot of fun of him, the whole family has", says Mario Everse, who bought him as a yearling. "Both our daughters have enjoyed riding him. They both have a horse for the higher level and that is enough. We have no ambition – once it is possible again – to ride at a high international level every weekend. And the youngsters are also coming on, which is why we brought Magic-Belle to our own auction. I hope they will be as pleased with him as we were."
Worldwide sales
Remarkably on the Tuesday-night was the many new clients buying a horse online. A total of seven horses will fly to the USA, but there were also buyers from Russia, China, Canada, Poland, Switzerland, Germany, the Czech Republic and one stays in the Nederlands. 
Two horses will leave for 55,000 euro to different stables in Canada: J'Adore Faya B (by Etoulon VDL) and Iowa B (by Action Breaker). Only a 3-yr-old but already showing great talent under saddle, Mila TM (by Fly) will leave for 40,000 euro for Poland, as will the coloured Denzel van het Vrankenhof (by Davinci Van Erpekom Z) for 30,000 euro and Krack T (by Etoulon VDL) for 28,000 euro. Hunter talent Lapacho (by Golden Dream) was purchased for 32,000 euro by a stable in the USA. A Chinese paid 24,000 euro for Fanny Girl du Lozon (by Mylord Carthago).
2021
"It is very gratifying to see how many people know where to find our auction. This was the seventh edition already and one thing is for sure: we will continue in 2021!", assure Waldman and Everse.
Created By

Copyright sporthorse-data.com 2005-2021. All rights reserved data is protected by database right.