Should We Repeat The Breeding
World Cup I-V, are not equal in ability in performance or as sires
Why should we repeat the breeding?
Once you have constructed what you believe is the best possible genetic combination for your sport horse foal, the experts advise that you repeat the breeding, at least once.
Even Tesio did this, and the science of genetics backs this advice up.
Bowling said, "The random assortment of chromosome pairs during gamete formation means we can not predict the exact proportion of genes that any two siblings have in common."
Each of the genes can divide and combine in many variations and your first, or even second mating may not get the most beneficial shuffle of the genetic deck.
If you are planning your matings correctly, even the lesser of the foals should be a very good horse, but the variation possible doesn't insure that the first foal will be the best of the bunch, so repeat the breeding, at least once.


If you doubt the variation possible you only have to look at your family, and ask yourself how alike full brothers and sisters are. Of course, people are much looser bred than horses. A sport horse breeder purposely tries to concentrate the good sport genes in order to consistently produce sport ability. Therefore the variation should be much less then what we commonly find in humans. That is why we try to target superior ancestors and increase their genetic input.
So, once you have carefully constructed a mating of what you believe will give you that talented pre-potent sport horse- then repeat the breeding.
I am going to provide you with several examples of this phenomenon. Before you read the examples, keep in mind that a full sibling of a great horse can, even if they themselves never reach close to "great" status, they can be a resource for your linebreeding exercises. Sometimes the addition of one of these not so important full siblings can make a huge difference in a sire's lasting success. For instance, we mentioned on the Pedigree Study page. in War Admiral the presence of Harry of Hereford, the rare full brother to Swynford, was a factor in what made War Admiral a key bloodline.
Now take a look at one or more of these examples:
World Cup I-V
An Example of Five Full Brother Stallions
These five full brothers are a triumph of German breeding. Yet, World Cup I-V, are not equal in ability in performance or as sires.
This is the "W" branch of the Hanoverian "F" line. Let's start out with their ancestor, Flugeladjutant, born in 1938 by Flugelmann 

Flugeladjutant (1938)
This remarkable stallion was able to produce two stallion sons, both with incredible movement, who became the head of a respective jump and a dressage dynasty in Hanover. His son Florentian II, born in 1943 has produced an excellent line of jumpers. We will be following his other son, Wohler, who is the head of possibly the most enduring dressage line today.

Wöhler (1950)
Born in 1950, Wohler, while a relatively small stallion at just 15.3 hands, became a important sire, producing muscular horses with great legs, sane minds and a spectacular movement. He founded a dressage line in Hanover. He produced several good sons, but Woermann is carrying on the strongest branch of his line.

Woermann (1971)
His son Woermann, born in 1971- just after Wohler's death, possessed a mesmerizing trot. His trot was elevated, elastic and very rhythmic, and he could pass it on. All his progeny were very correct horses with fantastic movement. When mated with the good Sender daughter, Sendernixe, he produced five full brother stallions: World Cup I-V.

World Cup I (1977)
World Cup I, a chestnut born in 1977, was clearly the greatest of them all. His talent overshadowed that of his siblings, some to a slight degree, but others in large measure. This is a good illustration of the unevenness in talent transmission, even in pre-potent horses.
World Cup I also had the advantages of being the born first and was the first of only two to stand at Celle, where he had access to superior mares. However, he still rises above the others. He won his stallion test with a overall score of 137.29; he was champion stallion of the year, and twice he was reserve champion stallion. He sired 17 licensed sons, including the super star, Weltmeyer.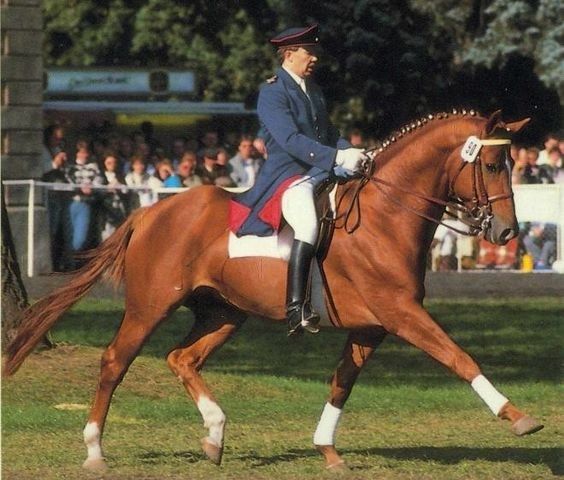 Weltmeyer (1984)
World Cup II, also a chestnut, found his older brother a hard act to follow. he scored 117.12 in his stallion test, which only earned him a 9th place out of 39. His breeding career is noticeably less than his stellar brother also.
World Cup III, a 1982 black, received a nice slice of the genetic pie. He scored 121.94 at his test, earning him a 5th out of 34. His breeding record also is fairly good, with progeny such as White Foot, and he is considered a significant sire.
World Cup IV, another chestnut, born in 1984, was sold to Canada. He came in 4th out of 40 at his testing, which just happened to be the same test that his nephew, Weltmeyer, won. His progeny are good dressage horses, including the stallion Wellesley.
I am afraid that I do not have much information on World Cup V. I believe that he too was a black, and that he produced a decent amount of sport horses. (If you have more info on this horse I will gladly update this page.)
Even considering the environmental advantages that World Cup I had, he still stands out as a super star, and that is how he is considered in Germany. The World Cup III and IV also appear to be very good horses, whose impact may have been greater with more advantages, but they can still be rated as receiving a good portion of the W line talent.
I am a little hampered by my lack of information on World Cup V, but still feel that he and World Cup II got a lesser share of the genes, and I would rate them only fair.
In reporting these examples, along with the others I will use, I am struck by how similar the results are between World Cup I-V and Man O' War and his four full siblings.
Both have out of the five: one super star, two stars and two just okay.
A note for Hanoverian breeders: You can benefit by building up the background strength and diversity of the Flugeladjutant lines, even though they may be in the far reaches of the pedigree, this stallion is a genetic giant. If you can add more lines through as many different descendants and close relations as possible, the result will be a depth of potency and deep reserves of talent built into your gene pool.
Calypso I-V
Five Stallion Full Brothers
The super Holstein mare Tabelle, when mated with Cor de la Bryere produced five full stallion sons. The quality overall of these five is very high.

Cor de la Bryere (1968)

Tabelle (1959)

Calypso I (1973)
Calypso I, a bay born in 1973, was 16.3 hands and with a solid build he was still a very elegant stallion. He transmitted his quality and his versatility to his progeny. He has both dressage stars, as well as international jumpers. He is said to be the most significant sire and most uniform producer of elegant performance horses. He is considered an important pre-potent sire that consistently produced fabulous gaits and scopey movements in his get. He has 10 stallion sons and over 140 approved daughters. He is a super star.

Calypso II (1974)
Born a year later, Calypso II had a lot to live up to. Also 16.3 hands, solid build, but a little coarse, he had great personality, a very heavy and powerful stallion. A fantastic jumper, he easily won the young stallion jump test. He was said to have nerves of steel, fearless, with an unflappable temperament. He was pre-potent for his jump talent, he gave springy-energetic gaits, and some of his progeny were good at dressage- all of them could jump. He stood in Holstein, then Hanover, he has 5 stallions sons and 58 approved daughters. he is considered one of the most outstanding stallions in all of Germany for jump ability and rideability. He also produced the super star Contender, who earned a 146.62 jump index and won the performance test. He initially stood in Oldenburg, but has been moved back to Holstein, and he is approved for just about every Sport Horse registry there is. He has 50 approved stallions sons already. This bloodline is white hot and is about as good as it gets.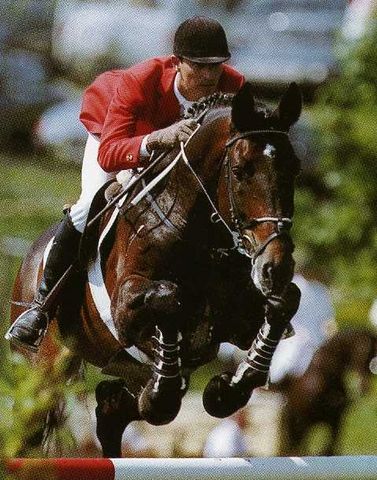 Calypso III (1977)
In 1971 Calypso III, a bay 16.0 1/2 hands, joined the two super stars. While he could not catch his older brothers, he was still a good stallion. A medium framed horse, with some faults in his hind legs, his gaits were described as forward and pounding, yet this coarser stallion easily won the Danish Jump Derby. His best progeny are out of high blood mares, and he passes on the huge jump talent along with the hind leg faults. His get are considered great competition horses.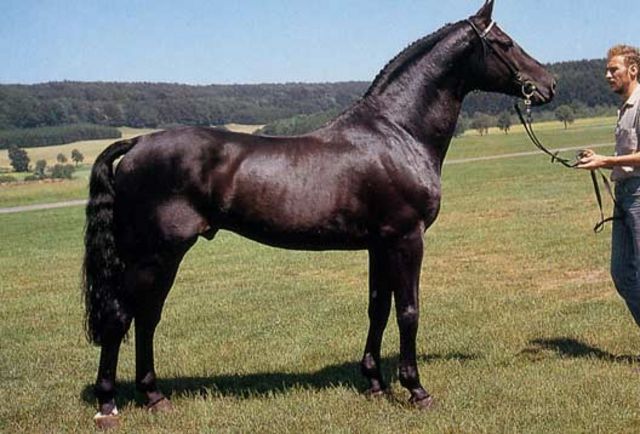 Calypso IV (1978)
In 1978, yet another stallion: Calypso IV was born, a black 16.1 1/2 hands, who is also judged on the coarse side. He possessed a large frame: heavy, wide and deep. He was easy to ride, a good jumper and had good gaits. After 3 years at stud he was already proclaimed an influential sire, as he produced many top international show jumpers, a lot of good performers and good broodmares.

Calypso V (1979)
Lastly in 1979 Calypso V was born, a chestnut- a color which sealed his fate. Holstein does not favor chestnut, so he was sold. Number V was an elegant stallion, with good conformation, correct legs and feet, a good mover and great jumper. His progeny were very manageable horses loaded with performance talent. How good he was in comparison to his brothers is hard to determine because he was sold out of his best breeding environment. Nonetheless, he still is valued as a good sire.
This group of five full siblings is different from my other two examples in that it appears that there is at least two super stars: Calypso I & II.
The last three brothers were hampered by the colossal success of the first two, which may be why there are no stallion sons of the last three, but they are well thought of as producers of quality performers, even Calypso III with hind leg faults.
This entire line is loved for the rideability of the horses, along with the superior upper level talent.
Man O' War
Man O' War and His Four Full Siblings

Man o' War (1917)
"He was the mostest hoss that ever was." (Will Harbut) I am a big fan of Man O' War.
He was born in 1917, but he is legendary. He could do it all, he had stamina, he had soundness, he had courage, he had speed, he was versatile, and he could pass it all on.
At one time in the late 1930's he had 4 sons who were champions in four different sports. There was the triple crown winner: War Admiral; he had a Grand National winner: Battleship; he had the winner of the Maryland Hunt Cup Blockade; and he had Holystone, a consistent winner in the show ring. Now that is pre-potency and versatility combined!
In my opinion, there has never been another sire so good. His daughters are still gold mines in any pedigree, and they passed on his mighty heart.
And his sons, such as War Relic, War Admiral and American Flag are still strong positive presences in our Sport Horses. He is a presence to be grateful for in our sport horse pedigrees.
Man O' War had four full siblings. Let us look at those siblings for a graphic illustration of why a good mating should be repeated if you are able. Because of the way genes seperate and combine, even full siblings will not be exactly the same. The more homozygous the genetic package is, the more consistent the outcome and we will discuss this in another article. Let Man O' War's full siblings tell the story of genetic fickleness to you.
Masda, a full sister to Man O' War born in 1915, was a very good horse. She was a stakes winner herself and an excellent broodmare. She produced 3 stakes winners, and the triple crown winner: Assault, directly descends from her. Also there are some noteable champions in her other descendents: Solfed, an Irish champion, and Prove Out, a Jockey Club Gold winner in the USA, who actually outran Secretariat once. Masda was very fast. Her trainer, Sam Hildreth said "Several times when I held a stop-watch on Masda she had run so fast that I thought there must be some mistake and I had to ask others to verify what my watch told me. But they caught her in the same time."(Bowen). So, in Masda you have a worthy sister to Man O' War.
Mirabelle, this is Man O' War's other full sister. She was unraced and proved to be a moderate producer of winners, such as the French champ: In Fijar, and the American winner: Delaware Township. But neither her racing ability nor that of her progeny had anything to compare with her great brother.

Playfellow (1918)
Playfellow. A full brother to Man O' War, but he was only a moderate race horse. He won a few races and he made no impact as a sire. I don't remember ever seeing him in a pedigree.
My Play. This full brother to Man O' War was a very good race horse. He won the Jockey Club Gold and was a successful sire, and an even better broodmare sire. Unfortunately he only lived to age 11. But he is still seen in good pedigrees.
So, all in all, only half of Man O' War's full siblings even approached his glory. They were all fairly good horses, but only 50% were well above average, and of course, there was only one Man O' War. Two out of the five matings were excellent results, two were okay results, but only one was the superstar. Good mating choices should be repeated for the best outcome.
This article was kindly supplied by Kathleen Hiney Kirsan of Sport Horse Breeder whose wonderful books are a must read for anyone interested in horse breeding.
North American Sport Horse Breeder
provides step by step instructions in applying Tesio  Methods in our breeding designs with 35 in depth analysis of individual horses, and is suitable for the beginner in pedigree design.
Standardbred Sport Horses
was written because the sport horse breeder is unaware of the huge genetic potential that is found in the Standardbred
Legacy of Lexington
This book documents the development of the unique American Thoroughbred, and explains why it is different from every other Thoroughbred population in the world.
 
Created By
Kathleen Kirsan
02/Mar/2021
Author of 4 books on sport horse bloodlines, North American Sport Horse Breeder, Legacy of Lexington, Standardbred Sport Horses & the latest book Become Your Own Tesio. Owner of the popular website: www.sport-horse-breeder.com. Breeder of sport horses for 3 decades she combines practical experience with pedigree research, the origin of sport ability & breed history. An expert in pedigree analysis, she has made Tesio methods understandable for the sport horse breeder.

Copyright sporthorse-data.com 2005-2022. All rights reserved data is protected by database right.