Itoki de Riverland is the new Selle Français Champion Stallion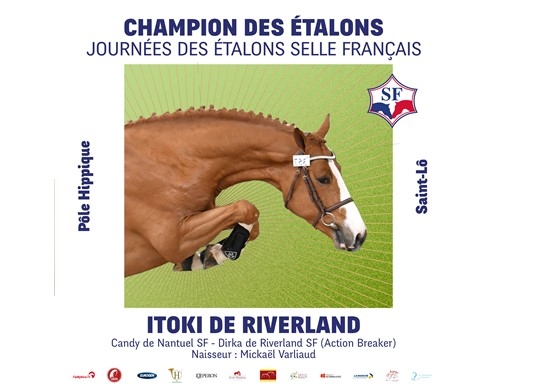 3-YEAR-OLD Selle Français APPROVED STALLION CHAMPIONSHIP RESULTS
Itoki de Riverland is the new Selle Français Stallion Champion!
A son of Candy de Nantuel from Nantuel (Luidam) and Dirka de Riverland (Action Breaker).
Bred by Mickaël Varliaud, SCEA RIVERLAND
The chestnut stallion scored 16.50 / 20 in the free jumping. He is a son of the popular Candy de Nantuel  (s. Luidam) who jumps internationally under Penelope Leprevost. Dam Dirka de Riverland (s. Action Breaker) is a half-sister of the international show jumpers Quento Sange (s. Cento) and the full brothers Bridge and Bresil de Riverland (s. Canturano).
The winner of the day is a son of Dirka de Riverland, still young (8 years old) at the mother of three offspring. The grandmother of the Champion is Luce d'Hesperid (Quidam de Revel), with twenty registered products including the grey Quento Sange (Cento, Holst), ISO 151/11 CSI with Bosty, Bresil de Riverland (Canturo, Holst), CSI, ISO 140/19. D'Hesperid à Roussy le Village (57330) is not the best known affix but it appeared recently in the paper of the excellent Galion de Perhet (Cornet Obolensky, BWP and Louve d'Hespérid by First de Launay) remarkable at 3 years old during the Norman qualifiers.
It is the well-known maternal line of Javotte D (Cor de Chasse) and then the success in breeding "du Chateau" by Jean Grandjean. VS' is also a prolific and ubiquitous line that floods the catalogs, including this year's one.
Itoki confirms the rising production of Candy de Nantuel, which had already stood out in the December 2020 test with the approved Horzain de Blondel. And to underline all the confidence it places in Candy, the France Élevage Group had recently (and judiciously) acquired 50% of Itoki from Riverland . The winner's future will be managed jointly between his breeder and the GFE.
Full results available here
Source: Eric Fournier L'Eperon
Created By

Copyright sporthorse-data.com 2005-2021. All rights reserved data is protected by database right.