Half-brother to Daniel Deusser's Killer Queen is Champion Stallion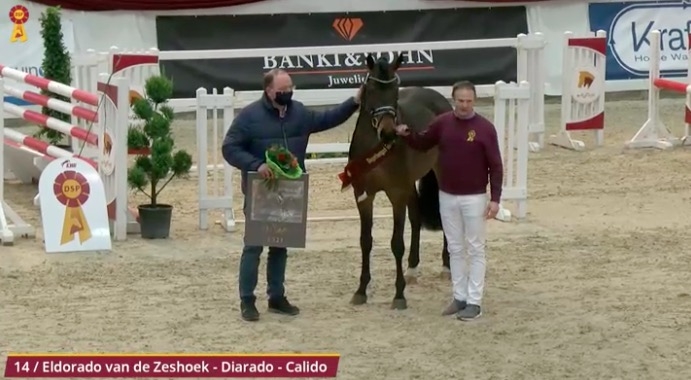 Champion stallion v. Eldorado van de Zeshoek, South German Stallion Days 2021 (© Screenshot Clip my Horse)
The first licensing decisions were made at the South German Stallion Days, which had to move from Munich to Neustadt / Dosse at short notice. Eleven show jumping stallions were licensed, four of them awarded. Champion stallion was an extremely rich bay stallion by Eldorado van den Zeshoek, a half-brother of Daniel Deusser's Killer Queen.
After the short-term move from the Isar to the Dosse, the first die was cast at the South German Stallion Days 2021. The show jumping stallions were on the program for the first two days. 25 stallions traveled to the Brandenburg State Stud and State Stud in order to prove their qualities as future show jumping sires.
TWO FREE JUMPING AT THE SOUTH GERMAN STALLION DAYS 2021
There were two free jumps, yesterday the stallions had to show their skills in a sequence of three in-outs, a gallop, and then an oxer. Today it was the "classic free jumping requirement", that is two jumps, then an oxer, in between each a gallop jump. In addition, the stallions were examined in the free run. The licensing committee was clearly younger. For the first time Andy Witzemann acted as sports commissioner for jumping. It was also he who commented on the four premium stallions.
Since the event took place in the Ostprignitz-Ruppin district, a district that has a seven-day incidence value of 362, no audience was admitted. Auctioneer Hendrik Schulze-Rückamp commented on the live stream on Clipmyhorse together with Holger Wulschner. He was sure that the champion stallion would trigger "enthusiasm in the living room at home". And as the chic bay from the breeding of Frank Timmreck, Hohenberg-Krusemark-Schwarzholz showed himself above the bars, he should probably find his friends live in the post-Corona period.
A strong and always supple jumping horse with a very interesting pedigree in several respects: Father Eldorado van den Zeshoek is a Corrado grandson through his father Clinton. Among other things, he is the father of Daniel Deusser's Killer Queen, the most successful show jumping horse among German riders last year.
On the mother's side, the new DSP champion has a lot of Holstein blood. His dam is full sister of Django Unchained T v. Diarado calido. The first in jumping at the South German Stallion Days 2021 comes from the Cashmoaker family . That is the grey stallion who became German champion in Balve in 2015 under Denis Nielsen.
In his comment, Andy Witzemann paid great tribute to the champion stallion brought to Neustadt by Matthieu Beckmann from Wettringen. He is "an absolute explosion of jumping power, quality and jumping pleasure". "The will to get to the other side without making mistakes" is what distinguishes him. "There is no situation that he does not solve easily."
THREE PREMIUM STALLIONS AT THE SOUTH GERMAN STALLION DAYS 2021
A trio of the eleven licensed stallions also received a premium.
FUCHS, OLDENBURGER JUMPING BREEDING ASSOCIATION OLDENBURG INTERNATIONAL, V.
 

BALOU DU ROUET ARPEGGIO NOVELIST

Sports commissioner Andy Witzemann from Winterlingen praised the "strength from the back. He can go forward, he can go back. Very wiry, looks like a tough athlete, we were very, very enthusiastic. "The fox actually jumped as if he couldn't get enough of it. He moved in Wagenfeld with Wilhelm Rohlfing, the owner is Wolfgang Puschak from Bonstetten near Augsburg.
BRAUNER, DSP, V.
 

HICKSTEAD WHITE-DIARADO-ARGENTINUS

The Württemberger bred by Werner Eberhard in Giengen was exhibited by the Sprehe Stud. His father Hickstead White is also based there. He produced four sons for the South German Stallion Days 2021. In addition to the premium stallion, another son out of a Coupie dam was licensed. The brown premium stallion is a steady horse that, despite its size, mastered its tasks in the Freispringgasse. "Impressed by his body volume, despite his size not difficult", so the approval comment. He is "sensitive to what we like". But above all, according to Andy Witzemann: "He jumped better from jump to jump, quick footing, a lot of wealth."

Like the champion stallion, the premium stallions are all up for sale in an online auction . Hickstead White had already presented champion stallions at the showcase of the best and in Redefin 2018.
BRAUNER, HANOVERIAN V.
 

ZINDEDREAM LORDANOS BULLFINCH

The son of Heinrich Ramsbrock, Menslage, born in the first year of the OS champion stallion Zinedream, has a prominent mother: Lou v. Lordanos-Gimpel was internationally victorious, among no less than three Olympic medalists, Meredith Michaels-Beerbaum , Daniel Deußer and Franke Sloothaak.

The type clearly shaped by his father, the stallion jumped bravely up and forward. For Witzemann an "absolute exception for a horse. How he coped with the situation here. A lot of wealth, almost limitless. All in all a stallion where you will see on the big stage. "The bay is" beautifully made, good body ". Like his father, this premium stallion was also easy going.

A second son by Zinedream (mother by Quiz) was also licensed.

The other licensed stallions were descended from Cornet Obolensky, Janeiro, Diamant de Plaisir and his father Diamant de Semilly.

The online auction starts on January 23rd. From Saturday it will be the turn of the dressage stallions, on Friday they will go free jumping from 5.30 p.m.

Source: Jan Tönjes @ St George
Created By

Copyright sporthorse-data.com 2005-2021. All rights reserved data is protected by database right.