Democrat another Showjumping Star from the 1948 Olympics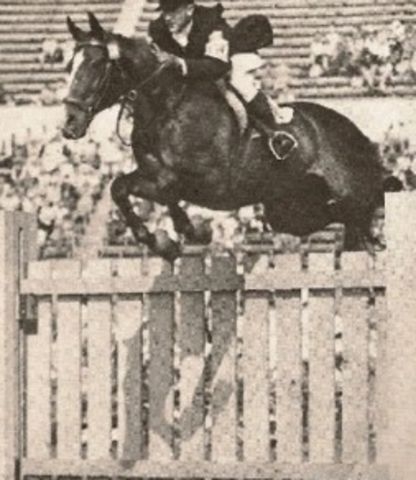 Colonel Frank Wing and Democrat in the 1948 Olympics
Democrat showjumped for the United States pre and post World War II in the Olympics and Nations Cups with Colonel Franklin Wing, John Russell and William Steinkraus. Democrat was also on the three-day event team in 1940.
The U.S. show jumping team for the 1948 Olympic Games was the last military Olympic team fielded. Col. Frank Wing rode the famous U.S. team mount Democrat, Capt. John Russell rode Air Mail, and Col. Andrew Frierson rode Rascal.
Democrat was foaled at Ft. Robinson, Neb., in 1933 and shipped as a 4-year old to the U.S. Cavalry School at Ft. Riley, Kan., where early on he showed his jumping prowess. Democrat had early success with Wing before World War II, notably in 1940 when the pair accounted for the individual championship at New York, but at age eight his career was put on hold and he remained at Ft. Riley until the war concluded.
One of the most experienced horses on the team was the 14-year-old "Democrat," a Thoroughbred gelding by Gordon Russell out of Princess Bon. He was on the three-day event team in 1940. Since the team was reformed in 1946, Colonel Franklin F. Wing, Jr., has shown him in international competition at Madison Square Garden and at the Royal Winter Fair in Toronto. Democrat is the type that will always be in the money no matter which way the team decides to use him.
A full Thoroughbred, Democrat was bred by our Remount and was by one the greatest modern sires of jumpers: Gordon Russell. At one time the entire US Jump Team was horsed on his offspring, and he is also the sire of the incomparable eventer Jenny Camp ASH, a winner of 2 individual Olympic silver medals and 1 team gold medal.
Democrat's dam built on Gordon's strong genetics by bringing in more of Martagon 3x6x4 (sons), and added another line of Springfield 4x6 (daughters) and more Lexington RH-Boston RH lines on the dam-line (daughters). Martagon is a Birdcatcher conduit and Springfield is both a Birdcatcher descendant and a carrier of critical mass in Eclipse and Herod.
As we go along you will see all these lines surface repeatedly in other jumpers. Another curiosity is that the Boston-Lexington lines found in Democrat are through two sons that could race at the trot as well as the gallop, and both lines repeatedly produced trotters, as did their sires.
Eolus and Planet RH were four-mile heat galloping racers, as a matter of fact Planet RH was the greatest four-mile heat racer before the Civil War. Plus all these horses pass on a talent in jumping. (Eolus you will find in the German line of Graf Ferry.)
Democrat
Born In:
United States of America
Currently In:
United States of America
Comp Level:
Showjumping Olympic/World Champs SJ-1.60m
Democrat Pedigree Chart by SporthorseData
Democrat Pedigree Chart by SporthorseData
Female Duplications

-

Male Duplications
This video is currently being processed. Please wait.
Col. Frank Wing & Democrat preparing for the 1948 Olympics
Franklin Fearing Wing, Jr., who rode Democrat was the son of a U.S. Army officer, was one of the best riders of his era. Wing graduated from the U.S. Military Academy at West Point (N.Y.) in 1930 and served in the 7th Cavalry Regiment at Ft. Bliss, Texas, where he was on the polo team. When transferred to the U.S. Cavalry School at Ft. Riley, Kan., he joined the U.S. Army show jumping team under Harry D. Chamberlin's leadership.
He and Democrat were selected for the U.S. Team for the 1940 Olympics, but were unable to compete when the Games were cancelled due to the war in Europe. The war didn't completely prevent Wing from achieving success in the jumper ring, however, and his presence was felt both before and afterward.
Wing and Democrat rekindled their success after the war, as related above, before the brown gelding qualified for the 1952 Olympic Team with Capt. John Russell. There, Democrat finished 24th individually and helped the infant USET win the team Bronze. His career ending on a glorious note.
After he returned from Europe, Democrat, now paired with Hall of Famer William C. Steinkraus, won all eight individual classes they entered on the 1952 fall indoor circuit, jumping approximately 150 jumps faultlessly.
They also shared in several team victories including winning the Nations' Cup in Toronto. Democrat was retired to Morven Stud near Charlottesville, Va., home of then USET President Whitney Stone, and died there at the age of twenty four in 1957
A big thanks to the following for help in puting this article together.
Kathleen Kirsan of Sport Horse Breeder
The Chronical of the Horse
Showjumping Hall of Fame
Created By

Copyright sporthorse-data.com 2005-2020. All rights reserved data is protected by database right.