Its a second Burghley title For Pippa Funnell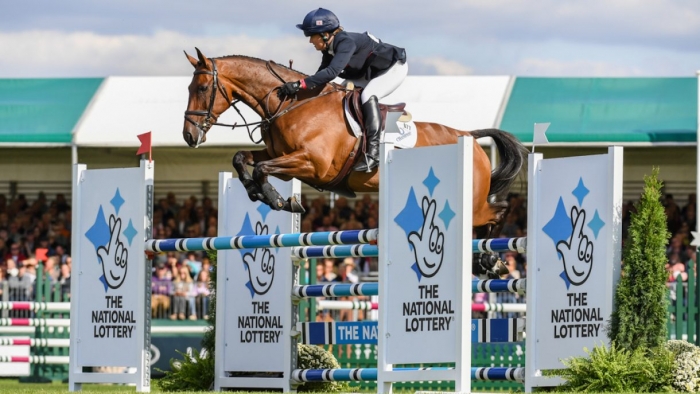 Pippa Funnell Riding MGH Grafton Street
Pippa Funnell has won the title at the Landrover Burghley Horse Trials today mantaining her tiny advantage when all the top three riders after cross country had a rail down in the final phase.  Riding MGH Grafton Street, who was making his debut at this level,  she beat Badminton winners Piggy French with Vanir Kamira and the 2017 Burghley champions Oliver Townend and Ballaghmor Class into second and third.
It was a great performance by the British trio, who last week were three quarters of the team who won a silver medal at the European Championships. When the Surrey based rider last won in 2003 it was riding Prinmores Pride and the start of winning the Rolex Grand Slam of Eventing, a feat that was not equalled for 13 years until Michael Jung in 2016.
Funnell led from start to finish. After the dressage, the experienced rider, who will celebrate her fifty-first birthday in just under a month, retained her advantage throughout the competition. With a  dressage score of only 22.8 penalties, Pippa then maintained control of the event after the very dramatic cross country phase yesterday. Today, the Briton only led a tenth of a penalty. MGH Grafton Street (formerly Bannerfarm Rocket) a grandson of Quick Star, is owned by Funnnell's long time supporters,  Jonathan and Jane Clarke!
"I'm really embarrassed by that round and in shock – big shock," she commented, struggling to gather her composure after what was clearly a very emotional win.
"He's not the best show jumper but I've always been convinced he had a big win in him – what an incredible two weeks with this and the Europeans."
​Yesterday, after her performance across country, Funnell had said thet she hoped being number 77, her lucky number which she also uses  for the heroine in the pony books she writes, would be the difference in keeping her just in fron of her rivals. On this occasion, superstition may well  have been the difference, point one of a penalty being the smallest winning margin for some time.
Sarah Bullimore and Reve du Rouet completed a British top four and Tim Price was best of the foreign contigent in fifth on Banco.
​The full result is here
 
Created By

Copyright sporthorse-data.com 2005-2020. All rights reserved data is protected by database right.