Equine enthusiasts, these are the places for you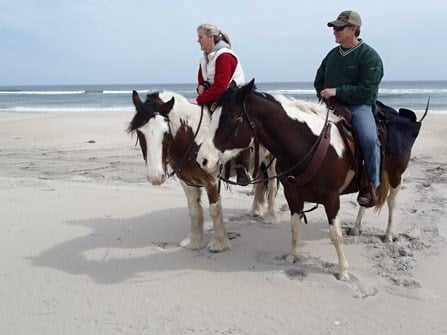 People travel the world for lots of reasons, so why would following your passion not be a good enough reason, right? As an equine fan, you will find a lot of places where you can run with the wind or just enjoy a long but very enjoyable horse trek. As you already know, you and your horse can have a wonderful time together, but the sights matter sometimes. Below you will read about some of the most amazing locations where you can go for a ride you will never forget.
 
Hovsgol Province, Mongolia
Can imagine yourself on a tiny Mongolian horse? Of course, you can. But do not underestimate the little horses because they are strong enough to carry you on the steppes of Mongolia. Lake Hovsgol, also known as the 'dark blue pearl,' is located in northern Mongolia, and it is an isolated place. Almost pristine and untouched by man. Or horse. Some nomadic families still live there, and you can experience their way of life. The grasslands will be forever imprinted in your memory, and the overall experience if life-changing.
 
Torres del Paine National Park, Patagonia, Chile
The view of the Andes Mountains is something we can all appreciate but going horseback riding on the wild pampas while admiring the peaks of the Andes is something from another world. You can ride from estancia to estancia, and between them, you will go through wild forests, superb rivers, and let's not forget the carved glacial valleys. Just keep in mind that for such rides you need to be an experienced rider and in an excellent physical condition. Otherwise, you will not survive a 40-km journey to the next estancia. But when you get to one, you can enjoy a hot bath and pisco sour besides a warm fire. You should definitely try this one.
 
Central Pacific Coast, Costa Rica
Do you ever watch a movie in which someone quickly grabs a horse and gallops along the shoreline of the ocean/sea? And do you imagine yourself as that someone? That can be you in Costa Rica. Riding a horse on a beach, galloping, can be an exciting experience. But you can also go through the rainforests and see all kinds of exotic animals. And if you are fortunate, you get the chance to ride through local plantations that are under the famous Arenal Volcano.
 
Banff National Park, Alberta, Canada
Vehicles are not even allowed in the park, so if you want to go sight-seeing for long distances by foot or by horse are your only options. But taking a horse will help you cover more ground during your trip. And trust me, it is worth it. The Rocky Mountains are spectacular. The forests are dense, but you get to a clearing now and then from where you can spot the snowy peaks of the Rockies. Just make sure to pack up a tent because it can be very cold. And mind the wildlife. You can spot black bears, elk, and of course, deer.
 
The locations above are among my favorites, and I am almost certain that you will love them too if you ever find yourself there. Just keep in mind that you need to prepare for such trips. Your physical condition needs to be at least satisfactory, and do not forget about equipment. At the same of the time, you need the right documents to get in some of these places. A passport can be enough. Although some destinations require a visa. See if you qualify for an e-visa. As for anything else, do not forget to have fun and enjoy the experience. 
Created By

Copyright sporthorse-data.com 2005-2019. All rights reserved data is protected by database right.