Danish Stallion Show A celebration of sport and breeding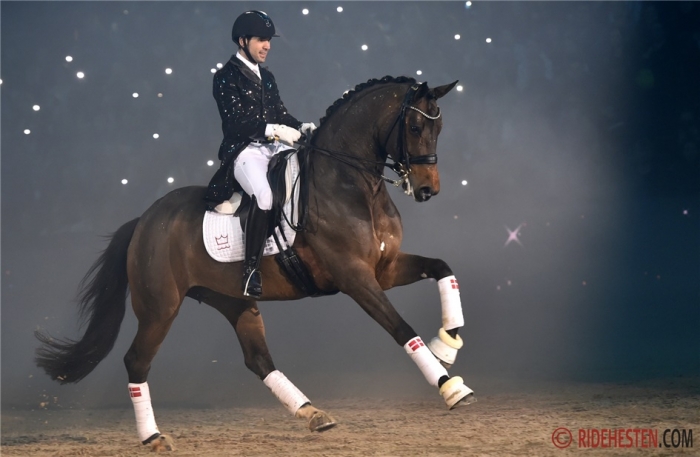 This week Danish Warmblood will be celebrating the 40th Stallion licensing in MCH Messecenter Herning with a major event that unites sport and breeding during five days of celebration. 6-10 March 2019!
In recent years, Danish Warmblood breeders have placed their studbook on the world map through remarkable international results. The outstanding achievements include the two only triple world champions for young dressage horses, the internationally sought-after stallion Sezuan and the world-famous mare Fiontini.
The Danish Warmblood Stallion licensing in MCH Messecenter Herning is the place where these two and many other DWB horses had their first major success before their international break-through. Sezuan was celebrated as a four-year-old champion stallion in Herning which is also the event where the former broodmare Fiontini as a five-year-old won the young horse championship after test rider Charlotte Dujardin decorated her with 2 x 10.
Every year the Danish Warmblood Stallion licensing in Herning writes history, and this year new stars of the future along with established top horses will write new history. We invite you to join us.
 
The grand finale for stallions
Every year in March, the Danish Warmblood stallion licensing in Herning becomes the grand finale of the European licensing season as many of the best colts from the foreign licensings are purchased by Danes, and the forthcoming licensing will be no exception. This year, you will see five sons of the first crop of the FEI/WBFSH world championship medallist and DWB gold medal stallion Hesselhøj Donkey Boy. Among the show jumping stallions you will find two older stallions with an international show record, Royal Butterfly and Quidman Denfer.
 
International dressage icon as test rider
The best 5-year-old Danish Warmblood dressage (35) and show jumping (29) horses will be competing in the young horse championship in Herning where two international test riders will be judging the horses on rideability and capacity. Danish team rider Lars Bak Andersen will be testing the show jumpers in KATRINELUND Young Horse Championship whilst Swedish team rider Patrik Kittel will be testing the dressage horses in BLUE HORS Young Horse Championship. The Danish bred stallion Sezuan totally dominates the field of contestants as more than a third of the qualified dressage horses are sired by him. Many of the horses are trained and ridden by high-profile riders such as the Danish dressage team rider Cathrine Dufour who is showing her own horse by Sezuan.
 
CDI**** and CSI*** with exciting field
The Danish Warmblood Stallion licensing truly unites sport and breeding at a very high level. Throughout the event international dressage riders will be competing in a four-star CDI and the show jumpers in a three-star CSI, both of which holds an exciting international field. Among many dressage team riders from various countries, Spanish Severo Jurado López will be competing the triple young horse world champion Fiontini in her first four-star Grand Prix which will be the comeback test for Cathrine Dufour's top horse Atterupgaards Cassidy after an eight-month show break. Cathrine Dufour also brings her other top horse Bohemian, and she will have a very busy week as she holds a dressage master clinic on Thursday night.
 
Auction of 27 young talents
An impressive collection of carefully selected quality horses at various training levels will be auctioned on 9 March at the Danish Warmblood Spring Auction during the stallion licensing in MCH Messecenter Herning. The collection of the 27 sales horses, aged 3-8 years, is now available online where you find each one of them with a photo, video, pedigree and description of the individual as well as you can obtain information on its x-rays.
Danish Warmblood's Spring Auction will be streamed live on www.clipmyhorse.de, making it very easy to purchase a horse over the phone. However, phone bidding must be agreed upon in advance. Please contact Danish Warmblood (tel. +45 40852421 or e-mail auktion@varmblod.dk) in order to arrange phone bidding.
 
Exhibition, gala and more
In addition to the actual stallion licensing, the young horse championship, the CDI/CSI as well as the master clinic, the event hosts a major exhibition area with 300 booths and a championship for farriers. On Friday and Saturday night the major arena, Boxen will hold nearly 10,000 enthusiastic horse lovers enjoying the almost sold-out Gala Show.
 
Live streaming
For the foreign guests that are not able to make it to Herning, live streaming of great parts of the show will be available on www.clipmyhorse.de.
 
To find out more about the event please visit DVHerning.
Created By

Copyright sporthorse-data.com 2005-2020. All rights reserved data is protected by database right.