The Yard Expert. We all Know one !!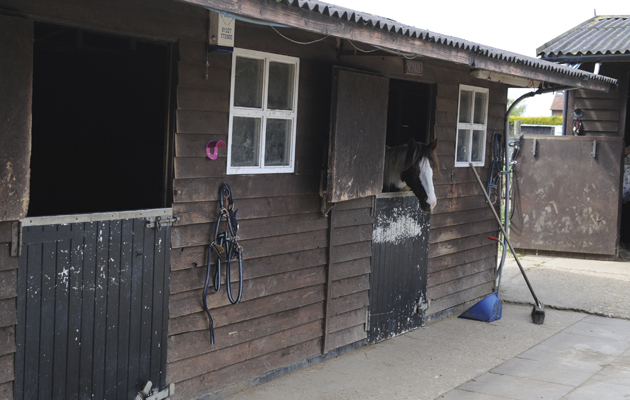 For a bit of fun at Christmas, vet Kieran O'Brien introduces a ubiquitous equestrian character who's probably familiar to you too.
Most yards have an Expert who will comment, without being asked, on your horse, how you feed it, your tack, your rugs, your trailer, everything. Most of her (or his) conversations with you begin with the words 'You should…'.
When she watches you ride your horse, she will tell you 'it's not right behind', because she can see things nobody else can. When your horse is in perfect body condition, she will tell you it is too thin.
The arrival of a vet's car in the yard has a magnetic attraction for her because, as an Expert, she needs to see if the vet gets it right. When the vet examines your horse, the Expert will stand there – always uninvited - listening to what the vet says and when he or she leaves she will say the advice given was wrong, and what she would do is quite different.
She can't understand why the veterinary practice she uses sends a different vet every time to see her own horse, and why that vet always seems to have to rush off to an emergency call while seeing her.
The Expert's horse is an overweight low-achieving cob, kept barefoot because we have all been getting it wrong for 200 years. It's the second horse she has had in her lifetime, so that makes her an Expert.
Five supplements
She feeds five supplements to her horse, and these vary depending on what's in fashion. At the moment she is feeding turmeric (which irritatingly she calls 'tumeric') because that cures all known equine ailments plus a few that haven't yet been discovered. Next year, when turmeric is out of fashion, and the next cure-all is something like ginseng, fenugreek or bat droppings, she will feed that instead, and tell you that you should be doing the same.
She can afford all of the supplements because the entry fees for Best Combination classes, the summit of her equestrian achievements, are quite low.
If your horse has a veterinary problem, she will be the first to offer an opinion. She contributes freely to on-line chat rooms because she is, well, an Expert - and the horse world needs her advice. Her friend's pony had laminitis five years ago so that qualifies her to advise others on how to manage their cases of laminitis, which incidentally, like all on-line Experts, she calls 'lammy'.
Daily she records the mind-numbing minutiae of her equestrian life on Facebook. Most people at the yard are her Facebook friends because they were too embarrassed to ignore her friend requests. Her last Facebook post was a photograph of her horse (invariably referred to as 'my pony', although it is 16 hands) asleep in a field. It achieved one 'like' – from her sister.
She keeps well clear of the most successful rider on the yard because the latter's ignoring of everything she says has become too hard to bear, although she will freely drop her name when the occasion presents itself. In her tedious conversations she always refers to famous riders by their first name, as though she is on intimate terms with 'Charlotte', 'William' and 'Mary'.
She always seems to have a lot of time on her hands, which she spends at the yard minding other people's business. You hope she will change yards soon because the next time she offers her uninvited opinion on your horse, the urge to punch her is getting harder and harder to resist. Sound familiar?
Photo Credit: Steve Bardens
Created By

Copyright sporthorse-data.com 2005-2020. All rights reserved data is protected by database right.