William Whitaker on top of the world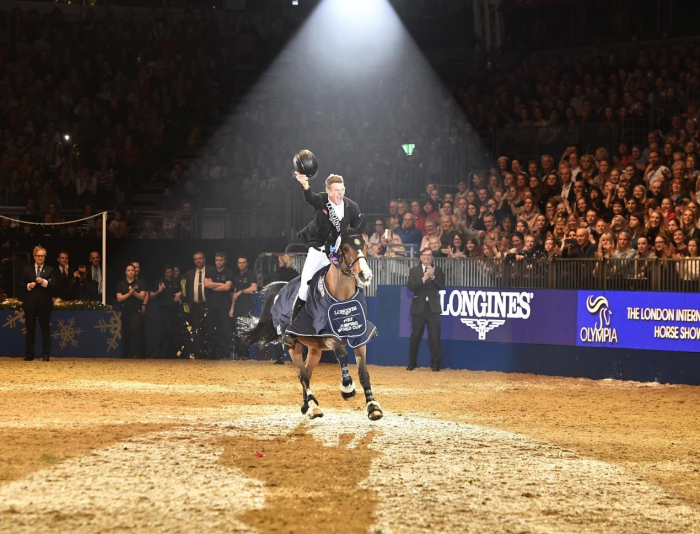 There were ecstatic scenes as William Whitaker won the Longines FEI Jumping World Cup™ at Olympia, The London International Horse Show, in front of a packed, cheering British crowd.
Riding Ludwig Criel's stallion
Utamaro D'Ecaussines
, Whitaker, 29, stormed around the testing jump-off course designed by Portugal's Bernardo Costa Cabral in 37.02 seconds, but the cream of the European jumping circuit was to follow.
Belgium's Karel Cox also produced a dazzling round on the nine-year-old Evert, but fell short by a tantalising fifth of a second and, last to go, the world team gold medallist Laura Kraut put up a beautifully ridden challenge to finish on 37.70 seconds on the grey Zeremonie, a horse she hasn't regularly ridden against the clock.
The collecting ring erupted into cheers and his family were jumping for joy as Whitaker's momentous victory sunk in and the rider admitted that it felt "surreal". Visibly emotional, he said: "I've been coming here since I was two or three years old and have many memories of [my uncles] John and Michael [who have both won it twice]. It's like a championship for us British – it's what makes you get out of bed."
The course-designer admitted that he was surprised by the amount of first-round clears – a remarkable 18 from a high-class field of 37 – but in the jump-off track, a couple of tight turns to huge upright fences proved the undoing of several big names.
Germany's Daniel Deusser and Marcus Ehning both faulted on the last turn. France's Kevin Staut and Simon Delestre, Britain's Laura Renwick, Guy Williams and Scott Brash also hit a fence apiece, but Michael Whitaker produced a magnificent round on the sensitive grey Valmy de la Lande to finish fourth, ahead of Edwina Tops-Alexander (Vinchester) for Australia and the European champion Peder Fredricson (H&M All In).
"It all worked out as I planned, but it helps if you are on a horse like mine," said Whitaker, who has won two previous FEI World Cup™ legs, in Mechelen (Belgium) and Falsterbo (Sweden), but never his home one. "He has such a good brain. I had trouble getting him into canter in the warm-up, but once he got inside the arena, he lit up. It's amazing. This is the biggest win of my career."
Created By

Copyright sporthorse-data.com 2005-2020. All rights reserved data is protected by database right.