Flanders Foal Auction Results 55,000 euro for trotter foal, 20,000 for showjumping foal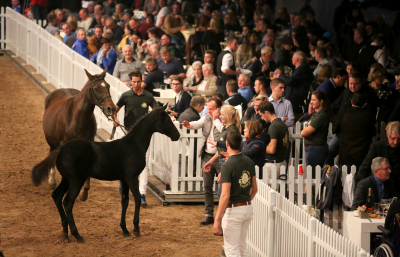 The first EVSB Selected Trotting Sale in Sint-Niklaas in co-operation with the Flanders Foal Auction yielded good prices on Wednesday evening 1 November. Three trotters were sold for 50,000 euro and more. The magnificent filly Rhyana de Septon & DB (Darco x Inshallah de Muze), grand-daughter of the 1.60m level Grand Prix mare Fananka, went for 20,000 euro to the USA as a promise for the future for Maggy Macalary, the rider of the Double H Farm.
For Flanders Foal Auction, which made its expertise available to the trotter auction in exchange for having ten showjumping foals included in the auction, this event was a new challenge. The expectation that people for trotting circles would also be interested in a showjumping foal proved unwarranted, for all the showjumping foals were sold by telephone to people from the own network.
A new client, however, was Nicolas Houel from France who bought the filly Rebelle van Schuttershof (Thunder van de Zuuthoeve x Plot Blue) from the line of Kashmir van Schuttershof. Also the Greek Milena Pappas claimed her first product at the Flanders Foal Auction, for she offered 8,000 euro by telephone for the magnificent Lolita van het Bovenhoekshof (Malito de Reves x Cassini I). Stal Zevenhuizen, which often invests in 'Flanders foals', was willing to pay 10,500 euro for Quick Pick Z (Quick Star x Cardento).
It was clear that the trotting sport is alive in Belgium considering the great number of interested buyers that came to the QC Stables, where the indoor hall was transformed into an attractive auction location. Two older trotting mares in foal, Mayenne (by Donato Hanover) and Stacelita (by Angus Hall) went for as much as 50,000 euro. Mayene comes from the Dutch Flevofarm in Eenrum, Groningen. 
The colt Nitro Vrijthout (by Ready Cash) which made life hard for his presenters with his enormous accerlation power and the drive to go real fast, was knocked down at 55,000 euro and will stay in Belgium. Numerous trotters were sold for prices under four thousand euro. Rinus Blom, owner of showjumping and dressage horses, put down 7,500 euro for a unique jubilee present for his employee Johan de Lei who has been employed for 25 years at Hoeve de Grient in Etten-Leur: the 3-yr-old jet-black trotter mare Lannoo EV (by Boadwalk Hall). 
"We tried to offer horses for every budget and we have succeeded in this. The horses all went for the prices they were worth", says auction organiser Filip Van Hauwermeiren afterwards. "I think that this was a very interesting evening. Both people with capital and the common man have bought foals. Perhaps we had too many horses on offer, but that is something to learn from. I learnt a lot in any case from this first auction. It was becoming a bit of a hype. It almost frightened me. I received hundreds of telephone calls every day. Fortunately the reactions are positive. I still have to balance the books, but my expectation is that there will be a second edition."
Flanders Foal Auction is looking forward to its next auction. That will be the second edition of the Flanders Embryo Auction in Sharjah, near Dubai, on 2 February during the CSI5* show.
Author: Wendy Scholten
Created By

Copyright sporthorse-data.com 2005-2020. All rights reserved data is protected by database right.