The Hanoverian licensed stallion Riccione has passed away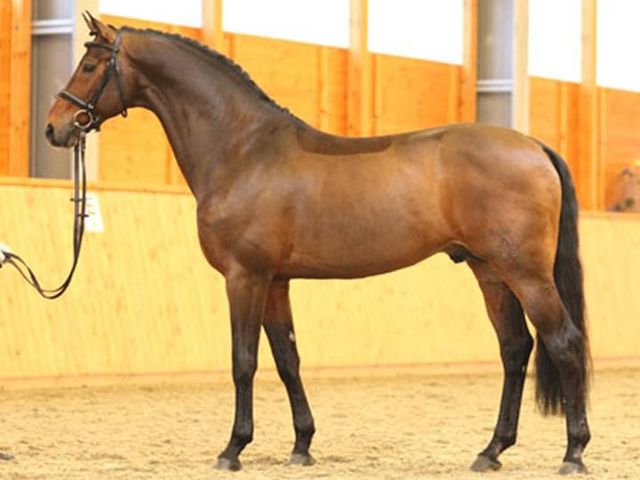 The Hanoverian licensed stallion Riccione has passed away at his home, Hans and Sandra Grunder's stable, in Switzerland. The 21-year old bay stallion broke his pelvis in his stall and had to be euthanized on 31 October 2017.
"We are very sad and we will not forgot this guy who was top fit until his last hour. He has made our stud farm famous in Switzerland and across the borders," said owner Sandra Gunder.
 
Bred by Heinrich Ehlers in Freiburg, Germany, Riccione was by Regazzoni out of state premium mare Arosa (by Arogno/T x Bolero)
 
He was licensed at the Hanoverian stallion licensing in 1998, but only did his stallion performance test three years later in 2011 in Neustadt/Dosse. He scored a total of 137.64 points which ranked him second overall. He earned 144.89 points for dressage (1st) and 107.02 points for show jumping (16th)
 
Riccione initially stood at stud at St. Ludwig and the state stud in Warendorf, but in 2006 moved to Emma Hindle's Brookhouse stud on Erbach, Germany. Hindle competed Riccione internationally that year.
 
In 2008 Hans and Sandra Grunder acquired Riccione and moved him to Switzerland. He was first competed by Melanie Hofmann, but wen she got pregnant und stopped riding for the Grunder family, young rider Simona Aeberhard took over the ride in February 2010. Aeberhard rode Riccione at the 2010 European Young Riders Championships in Kronberg, Germany, and scored bronze at the 2010 Swiss YR Championships.
 
In 2011 Riccione moved back to Germany and was leased to the Warendorf state stud for the season after the stallion sustained an injury in November 2010. It also marked the end of the stallion's competition career.
 
Riccione leaves behind 22 licensed sons, and 46 state premium daughters. His most famous offspring includes Ricidoff (Adrienne Lyle), who sold to Betsy Juliano at the 2010 PSI Auction for 680,000 euro; German YR team member Rendezvous (Luca Michels), Dutch YR team horse Ringo Star (Lisanne Zoutendijk), as well as Riccio, Richfield, Rigamento, and Ratzinger V.
Created By

Copyright sporthorse-data.com 2005-2020. All rights reserved data is protected by database right.