Hanoverian Mare of the Year 2017 for State premium mare Sarah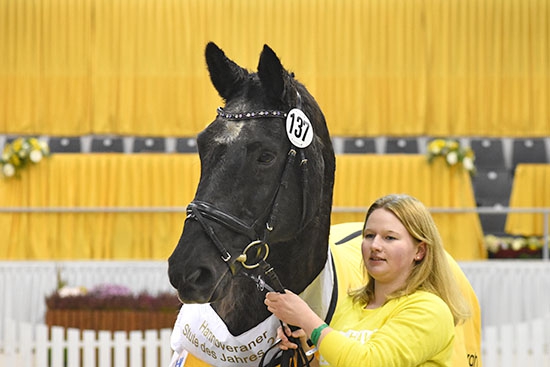 Some mares display incredible inherited qualities, and the impressive breeding account of State premium mare Sarah (Sherlock Holmes x Calypso II) is no exception. Born at Adolf Feldmann's in 1995, her dam had already produced advanced level jumpers in a row, and Sarah is continuing this tradition. Already remarkable as young mare, she won 'Ia-prize' at the mare show in Schillerslage at the ages of two, three and four years. She completed her mare performance test with a score of 8.0 for rideability, 9.0 for jumping style and the highest mark of 10 for scope. She was of course entered into the Hanoverian Jumper Breeding Program with this super result.
 
Sarah produced 13 foals for the breeding farm of Adolf and Christa Feldmann, all of them descending from the Celle state stud stallion Stakkato; for example, the licensed stallions Saint Amour, Spartakhus and Saint Amour II. These stallions are breeding in Sweden, France, Monaco and Belgium, and Saint Amour competed in the Final of the Bundeschampionat with Eva Bitter in 2004 and 2005. His victory at the 2009 World Cup showjumping championships in Gothenburg and participation at the European championships in Windsor with the Swedish rider Svante Johannsen are certainly his most important results. Saint Amour was Sarah's first foal and her progeny have sold to eight different countries. Christa Feldmann accepted the prestigious award but her husband, who was deeply enthusiastic about Sarah's offspring, did not live to see the success of his breeding work.