Third world champion title for Dayro Arroyave at the FEI/WBFSH World Breeding Championships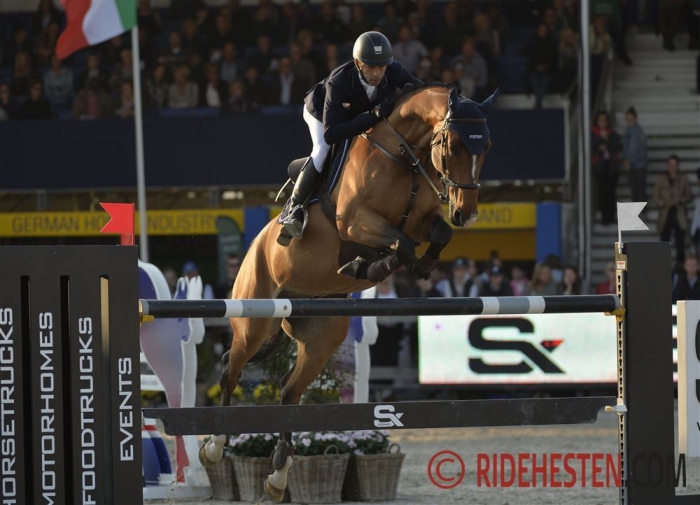 Columbian Dayro Arroyave has previously won the FEI/WBFSH World Breeding Championship for 5- and 6-year-old horses, has added a new title when he won the gold medal in the 7-year-old finals
In 2007 Columbian Dayro Arroyave won the FEI/WBFSH World Breeding Championship with the 5-year-old Opera de Rizzi Z and in 2012 he won aboard the 6-year-old Gangster de Longchamps. 2017 was a new opportunity for the Columbian rider as he had qualified an outstanding 7-year-old finalist, the BWP bred Koriano van Klapscheut by Lord Z x Darco (Bvba Mivaro). Five of the 12 contenders in the jump-off were faultness but no one was faster than Dayro and Koriano who cleared the challenging course in only 40.62 seconds.
 
Silver medallist, BWP gelding Flash by Lord Z x Darco (bred by Stald De Leygraaf & Devos Stables), is ridden by Belgian Pieter Devos who told that Flash is a family horse owned by himself and his family-in-law, It used to be ridden by his sister-in-law, but Pieter has taken over the ride and is training it in his system. - I only came here to give the horse a good experience as a part of his training, Honestly, it was not my aim to be on the podium today. It was his first jump-off ever, so I'm really proud of him and grateful to my family.
 
Spanish Ivan Serrano Saenz rod the KWPN gelding Citizen Mezz by Numero Uno x Indoctro (bred by Gestüt Lewitz) into third place claiming the bronze medal.. Ivan Serrano Saenz told that he has not ridden the horse for long but he's a very good horse with a super mind.
 
View the full result HERE.
Created By

Copyright sporthorse-data.com 2005-2020. All rights reserved data is protected by database right.