Verden Auction October Sport Horses, Stallions and Foals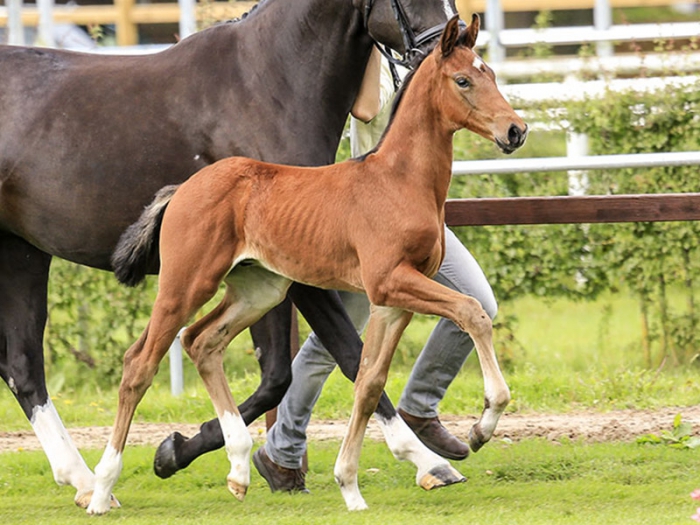 The 134th Elite Auction of the Hannoveraner Verband features 87 riding horses, 67 foals and two-year-old stallions – a huge collection of top-class horses. Reason for the organizers to already start with the sale of foals on Friday evening as Verden Foal Gala and to combine it with an interesting, entertaining show program. It will be the first time that show performances will also be included in the auction of riding horses and young stallions on Saturday.
The sale of foals of the first Verden Foal Gala will start on Friday as of 06:00 pm. The quadrille of the German national pony team, the Brüsewitz-brothers with their vaulting program, a pony sulky quadrille as well as some the presentation of the auction horses in the limelight are the festive highlights of the program. The youngest Hanoverians will be in the centre of attention, all of them featuring outstanding pedigree combinations.
The riding horses and stallion prospects will be sold on Saturday as of 02:00 pm. This second part of the auction will also be accompanied by show performances. Besides the quadrille of the German national studs and a presentation of the Hanoverian young breeders, the Hans-Joachim-Köhler-Award will be given. The Brüsewitz-brothers will perform once again on Saturday. The collection includes a number of raw diamonds that have already shown their qualities at tournaments in the last months. A number of dressage and show jumping horses already qualified for the Federal Championships.
Schedule of the 134th Verden Elite Auction
Friday., 13.10.
09:00 am    Free jumping of the show jumping horses
followed by the free running and free jumping presentation of the stallions
followed by the presentation of foals in the outdoor arena (approx. 11:30 am)
followed by the presentation of auction horses (approx. 01:00 pm)
06:00 pm    Sale of foals "Verden Foal Gala"
 
Saturday., 14.10.  
09:00 am         Final presentation, part 1, dressage and show jumping horses including course jumping
followed by the final presentation of the stallions in-hand
followed by the final presentation, part II, dressage and show jumping horses including course jumping
02:00 pm        Sale of riding horses and stallions, accompanied by show acts