Philipp Weishaupt Becomes a Millionaire in the CP 'International', presented by Rolex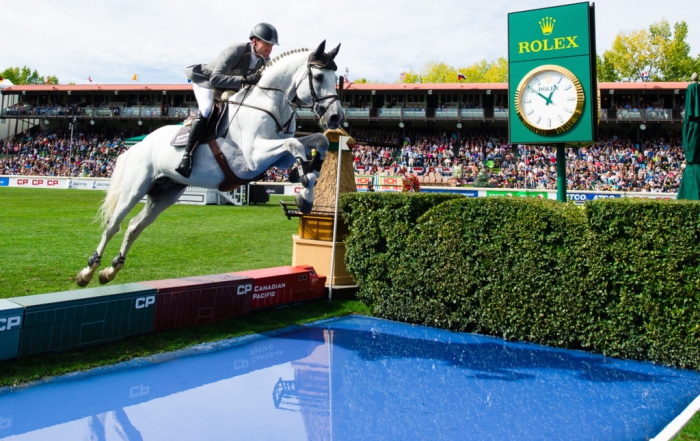 The CP 'International', presented by Rolex has been won by Germany's Philipp Weishaupt riding LB Convall at the CSIO Spruce Meadows 'Masters', one of the toughest Grand Prix on the global equestrian circuit. Luciana Diniz from Portugal riding Fit For Fun 13 was second and McLain Ward from the United States riding HH Azur came in third.
Over 87,000 equestrian fans walked through the hallowed Spruce Meadows gates on Sunday morning, eager to secure their spot for what promised to be an unprecedented day of elite level show jumping. The haze of the preceding weeks had lifted, welcoming bright sunshine and foot perfect conditions. The stage was set to welcome 43 of the world's best horse and rider combinations, all contending for the prestigious title and the richest prize pot in the sport.
Course designer Leopoldo Palacios, a name synonymous with delivering the biggest Grand Prix in the world, certainly lived up to expectations. Fences reached up to 1.70m in height with technical questions being asked of the horse and riders throughout.
All eyes were on Rolex Testimonee Scott Brash, defending champion two years running and Belgium's Gregory Wathelet, the current Rolex Grand Slam of Show Jumping live contender after winning the Rolex Grand Prix at CHIO Aachen in July.
From the very first combination to enter the arena, the highly knowledgeable crowd willed every horse and rider over the 14 jumping efforts set for the first phase. Rolex Testimonees Kevin Staut and Steve Guerdat picked up an unlucky four faults with the slightest of touches causing the pole to drop.
Current World Number One and Rolex Testimonee Kent Farrington collected eight faults in the final triple and as a result, did not progress any further in the competition. It was not to be a third consecutive victory for Great Britain's Brash, despite a valiant effort with the legendary Ursula XII.
Rolex Testimonee and Canadian hero Eric Lamaze produced one of the faster four fault rounds and thus advanced through to stage two of the competition. Alongside Lamaze were 11 other combinations which included a total of seven clear rounds.
Clean rounds were hard to come by in the second stage, as Leopoldo tested the competitors to their limit on a revised course layout. The bar was set high from the first rider in the arena, with a clear jumping round and one time fault from the home favourite, Lamaze. From the next ten riders to enter the International Arena under the famous clock tower only one produced a clear round, Germany's Philipp Weishaupt aboard LB Convall.
Last to go was Luciana Diniz riding the popular Fit For Fun 13. The packed grandstands fell silent as they saw the combination strive for a clear round and thus deliver a desired jump off. Despite a fantastic effort and brilliant sport, the final oxer proved to be a stretch too far, resulting in victory for Weishaupt. After winning the Rolex Grand Prix at CHIO Aachen in 2016, his horse has gone from strength to strength and has once again proved himself on the international stage.
 
Speaking after their victory Weishaupt said, "Every year it's the same, it's super tough and to get a double clear here is something very special. Most of the time there is no jump off so it means the first two rounds here can't get any tougher.
"It was a surprise for me to win the Rolex Grand Prix in Aachen last year and today I was very lucky and my horse jumped so well. He is just an outstanding animal and I am honoured to ride him."
With only one double clear round, Leopoldo commented on the course and his strategy behind the design. "This year I had a super field of horses and a super field of riders. I was working for one clean round and in order to achieve that, you have to push them to their limit and I think I did that today. I have built two Olympic courses in the past and I believe this course was harder than some of the games I have seen in my life."
Weishaupt will travel to CHI Geneva in December as the current live contender for the Rolex Grand Slam of Show Jumping, looking to continue his fine form in one of the world's greatest indoor arenas.
FINAL RESULTS OF THE CP 'INTERNATIONAL', PRESENTED BY ROLEX
1. Philipp Weishaupt (GER) riding LB Convall
2. Luciana Diniz (POR) riding Fit For Fun 13
3. McLain Ward (USA) riding HH Azur
4. Emilio Bicocchi (ITA) riding Sassicaia Ares
5. Eric Lamaze (CAN) riding Fine Lady 5
6. Maikel van der Vleuten (NED) riding VDL Groep Verdi Tn
7. Marco Kutscher (GER) riding Clenur
8. Lauren Hough (USA) riding Ohlala
9. Sameh el Dahan (EGY) riding Sumas Zorro
10. Sergio Alvarez Moya (ESP) riding G&C Arrayan
Created By

Copyright sporthorse-data.com 2005-2020. All rights reserved data is protected by database right.