Danish Warmblood Mares of the Year 2017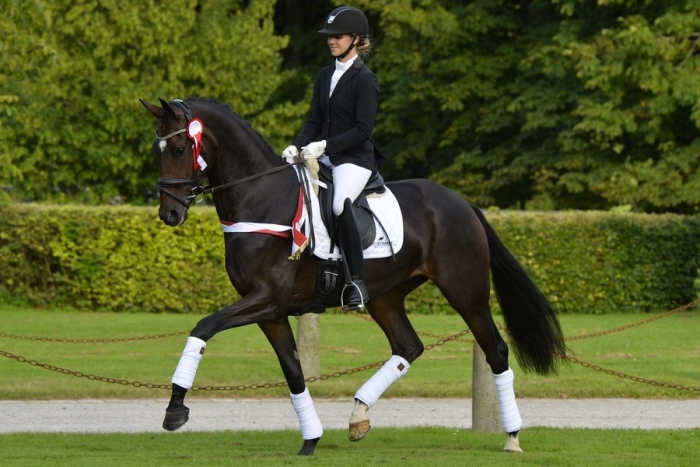 At the Danish Warmblood Equsana Elite Show the best young mares from all over the country gather to compete for the champion titles of the year. Four 3-year-old saddle-graded mares were awarded a gold medal.
The best of Danish sport horse breeding is represented at the Danish Warmblood Equsana Elite Show which takes place every year at this time at the Danish Warmblood head quaters. Top quality foals, 2-year-old fillies and young saddle-graded mares have been selected at regional foal shows and mare gradings all over the country during summer to meet in the finals at Vilhelmsborg.
 
Among the 3-year-old saddle-graded mares the judges have been presented with a very high quality. Nine show jumping mares were award a breeder medal in bronze, five in silver and one in gold – the Show Jumping Mare of the Year 2017. This coveted title was appointed to the beautiful Birkegårdens Conchita (bred by Heidi Rasmussen) who was actually purchased at the Danish Warmblood Elite Foal Auction in 2014 for a more than reasonable price. She is by Cavall Ask x Calato x Corlando and achieved two times 9 for her jumping abilities and 9.5 for rideability. It is the second time that her dam produced the 3-year-old Danish champion mare.
 
Three outstanding dressage mares
Nothing less than three 3-year-old dressage mares were awarded a breeder medal in gold, eight in silver and nineteen in bronze. Among the three gold medal mares the judges selected the champion mare to be decorated with the title Danish Warmblood Dressage Mare of the Year – and she is Skovens Tzarina (bred by Kirsten Bjerregaard Hansen and Jens Lund Pedersen) out of the very successfull combination Blue Hors Zack and Blue Hors Don Schufro. Skovens Tzarina shares her dam with older brother Skovens Rafael (by Blue Hors Romanov) who is Nordic dressage champion 2017. Skovens Tzarina who was awarded 10 for her fantastic canter is owned by Andreas Helgstrand who purchased her at the Danish Warmblood Elite Foal Auction in 2014.
 
The very feminine and sporty Straight Horse De Milla (bred by Straight Horse ApS) by De Niro x Blue Hors Zack excelled with a very powerful trot which earned her a 10. Her dam is a full sister of international Grand Prix stallion Zonik. Gold medal mare Straight Horse De Milla is still owned by her breeders. Third gold medal dressage mare is the tall and elegant Queensparks Wendy (bred by Kurt Gosmer and owned by Helgstrand Dressage) who earned a 10 for her very uphill and ground-covering canter.
 
The future generation
 
Danish Warmblood breeder medals are only awarded to stallions and mares aged 3 year or older that have passed a riding test with a very good result and meet the quality requirements for conformation and gaits etc. However, it is a popular tradition to present 2-year-old filles for evalution on conformation and gaits or free-jumping, and the best from all over the country gather at the Elite Show to compete for the champion titles.
 
Tatiana Ask by Ci Ci Senjor Ask x Cayado x Acobat II, bred and owned by Stutteri Ask, is a well-developed filly that jumps with much scope and caution. She now carries the title Best 2-year-old Show Jumping Filly. In the category for 2-year-old dressage fillies the beautiful chestnut Springborgs Guinea by Sir Donnerhall I x Diamond Hit, bred and owned by Stutteri Springborg, stood out in a league of her own. Her flawless type and elastic and supple gaits earned her the champion title.
Created By

Copyright sporthorse-data.com 2005-2020. All rights reserved data is protected by database right.