Haras des Coudrettes wins the bidding war at Z Online Auction last night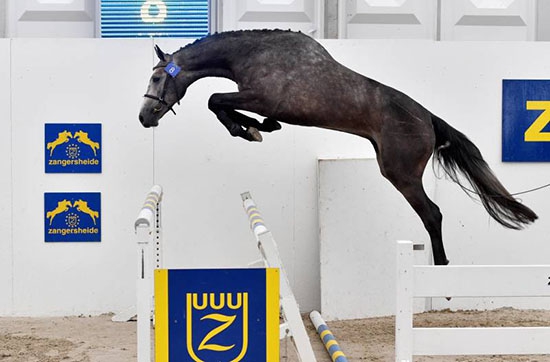 In an epic bidding war during the Z Online Auction yesterday evening, Haras des Coudrettes was victorious in purchasing the superb jumper Completely Z (Cassini II - Curios Z x Chellano Z) for €55,000 (see photo). The super 3yo grey is a full-brother to double world champion of young horses, Casuality Z. Carlotta DK Z (Cornet Obolensky - Vialotta d'Ick x Diamant de Semilly), a granddaughter of Isovlas Pialotta went for €30,500 to Portugal, while Unbelievable Touch JT Z (Untouchable - Carte Blanche Z x Carthago a half-sister to to Olympic stallion Hardrock Z, sold for €23,000 to a new Mexican owner.
In spite of the numerous auctions and online auctions here and abroad, Zangersheide always succeeds in creating a market for its breeding products with an average yield of € 12,139 for the foals and € 25,416 for the 3-yr-olds.
The next edition of the Zangersheide auction series will take place during the World Championships for Young Horses in Lanaken on 22 and 23 September.
 
Created By

Copyright sporthorse-data.com 2005-2020. All rights reserved data is protected by database right.