Just Remember Claims West Coast Best Young Horse Title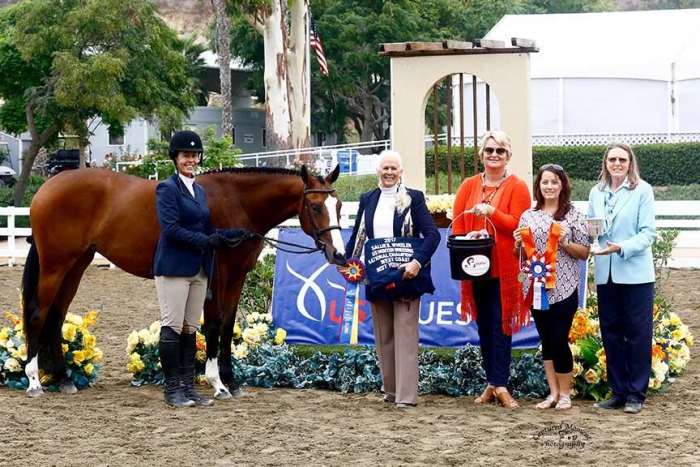 The West Coast portion of the 2017 Sallie B. Wheeler/USEF Hunter Breeding National Championship took place Wednesday, August 23, at the Showpark Summer Classic in Del Mar, Calif. Judges Christina Schlusemeyer of Wellington, Fla., and Meg Schulman of Littleton, Colo., assessed the young hunter prospects and awarded the West Coast Best Young Horse Champion title to Just Remember.
Just Remember (Just the Best x Mosegardens Carina x Carano), a 2015 KWPN filly owned and bred by Tish Quirk and handled by Emily Esau Williams, also took top honors in the Two-Year-Old Filly class and received the KWPN of North America Award.
"I'm ecstatic! What a great day. I'm so thrilled. It was a beautiful day. There were a lot of wonderful horses here today. Good turnout. Lots of top handlers," Quirk said. "In the Best Young Horse competition, [Just Remember] really rose to the occasion and presented herself beautifully. … From the first time Emily handled this horse, she said, 'This one could win it all.'"
The West Coast Best Young Horse Reserve Champion was Patti Rose (Flexible x Bobbi/Hand in Glove), a 2014 Thoroughbred-cross mare owned and bred by Tina Konkle and handled by Carleton Brooks. She also won Three-Year-Old Filly division.
Numerous other champion titles and breed awards were up for grabs for a strong group of hunter prospects:
Yearling Filly – Coronet's Begonia (Coronet d'Honneur x Brescia/All the Gold), a 2016 Rheinland Pfalz-saar International (RPSI) filly owned, bred, and handled by Rachel Jansen Jones
Two-Year-Old Colt/Gelding and RPSI Award – Coronet's Andros (Coronet d'Honneur x Brescia/All the Gold), a 2015 RPSI gelding owned by Elizabeth Davin and bred and handled by Rachel Jansen Jones
Three-Year-Old Colt/Gelding – Sonder (Sinatra Song x Chrysalis/Carismo) a 2014 Hanoverian gelding owned and handled by Lyssette Williams and bred by Susanne Mattern
Three-Year-Old Under Saddle – UPTown Girl (Popeye K x Frederika 2 WF/Federalist), a 2014 Dutch Warmblood mare owned by Matt Green, ridden by Nick Haness, and bred by Ryan Pedigo
Three-Year-Old Hunter Hack - Triple Krown (Crown Affair x Sophistikated/Popeye K), a 2014 Warmblood mare owned and ridden by Rachel Maloney and bred by Amy Farmer
Four-Year-Old Under Saddle and Four-Year-Old Conformation Over Fences - Reminiscent (Ragtime x Rio Cortez/Rio Grande), a 2013 Oldenburg gelding owned and bred by Melissa Brandley and ridden by Jessica Allan
American Hanoverian Society Breed Registry Award - Wroyal Diamond PF (Widmark x Downtown Delight/Don Schufro), a 2015 Hanoverian colt owned by and handled by Ryan Pedigo and bred by Meg Williams
The ISR/Oldenburg of North America Award – Diamond Mojito (Diamond Stud x Jo Be Fantastic/Seattle Bound), a 2015 Oldenburg gelding owned, handled, and bred by Mell Freeman
Amateur Handler – Melissa Brandley handling Reflection, a 2012 Oldenburg mare owned and bred by Brandley
The championship heads to the East Coast to the Virginia Young Horse Festival in Lexington, Va., on Saturday, August 26. Following the East Coast portion of the championship, the Overall Grand Champion and Overall Reserve Grand Champion will be decided.
Find out more information on the Sallie B. Wheeler/USEF Hunter Breeding National Championship at usef.org/hunterbreeding.
By Kathleen Landwehr, US Equestrian Communications Department
Photos: Just Remember, 2017 West Coast Best Young Horse Champion (Captured Moment Photography)