The Gold keeps coming for Great Britain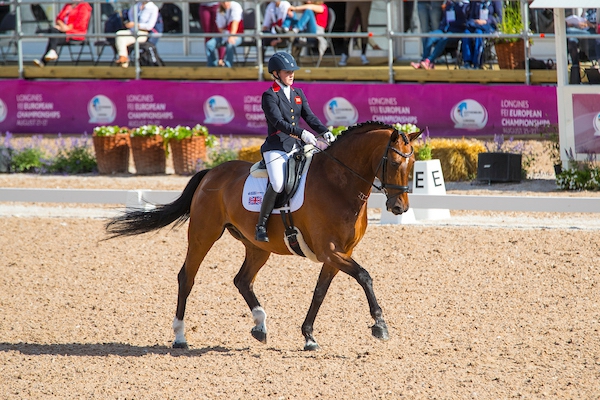 The Great Britain para-dressage team have retained their European title at the Longines FEI European Championships, after some fantastic performances from all four team members saw the all-female quartet clinch the gold, ahead of Denmark and The Netherlands.
The team gold today means that as well as retaining their European title, Britain's para-dressage team also retain their unbeaten record, having never been beaten at European, Paralympic or World level. 
Performance Manager Sarah Armstrong commented: "I'm just over the moon. Every time any of them delivers their best in the arena it increases the thrill and privilege of working with them. To have three of the team at their first championships and under such pressure, they've seriously delivered.
 
"We knew that the Danes would be exceptionally tough competition but we also knew that we had come here as prepared as we could have been. We have had total commitment from the entire team and there an immense amount of work has gone into preparing the horses, with every small detail checked, which has allowed us to deliver performance gains and to be in this fantastic position."
 
First up this morning in the Grade V class was yesterday's Individual Silver medallist Sophie Wells MBE with Charlotte Hogg and her own C Fatal Attraction. Producing some lovely work, the duo recorded a score of 73.58% to get the British team off to a great start.
 
Commenting, Sophie said: "I enjoyed that. I'm much happier today; I could show a little more of what he could do out there. He came out in a different place today, he's always got better with the more tests he does and he was a bit more at peace with his environment. I was excited to have Jorge here; the new challenge is nice and I think he's a really talented horse. I love riding him; he's like a ball of energy."
 
Next up for Great Britain was Erin Orford, who with Annabel Whittet's Dior, won her first championship medal yesterday, a bronze. Aboard the striking Pimms, Erin had a great ride to see a score of 68.85% confirmed.
 
"I was really pleased with how she felt," said Erin, "her way of going was much more spritely and had a little bit more ping. The quality of work felt better today than yesterday so I was really pleased with her. Obviously disappointed with the mark, I wanted to put something a little bit stronger forward for the team, but it's out of my hands.
 
"She felt a lot more confident in there and she seemed to enjoy it a little bit more and came into her own a little bit more."
Individual Grade III gold medallist, Suzanna Hext, was on fine form once again with Charlie and Pammy Hutton's Abira, as the pair produced yet another lovely test for a score of 72.088%.
 
Suzanna said: "I'm pleased with him (Abira), he felt much easier today, especially in the serpentine. I was slightly disappointed about almost going into canter during the walk pirouette, which probably cost us but I was really pleased with the rest of the test."
 
Julie Payne, who had already taken the Individual gold in the Grade I test the previous day, was the final rider to go for Great Britain. With Di Redfern's Athene Lindebjerg, they pulled out a superb test, to post a result just shy of their personal best, for a score of 78. 107%.
 
A delighted Julie spoke afterwards: "It was the hardest test I think I've ever ridden in my life,  that just took everything I had and bless her, she just gave me everything. I wanted to do so much for the team; they all congratulated me afterwards, but as I said to them 'there's no 'I' in team, without all of us we couldn't have done it', and that team includes all the fantastic support that we've had. I just wanted to do my best and show her off to her best; I'm just the luckiest person in the world."
 
The para-dressage competition draws to a close Wednesday with the final event, the Individual Freestyle, which will see all four of Britain's athletes compete for Individual titles.
 
The British senior teams are supported by the BEF's UK Sport National Lottery funded World Class Programme.
Created By

Copyright sporthorse-data.com 2005-2020. All rights reserved data is protected by database right.