Foal Auction Borculo. We have selected foals that are in demand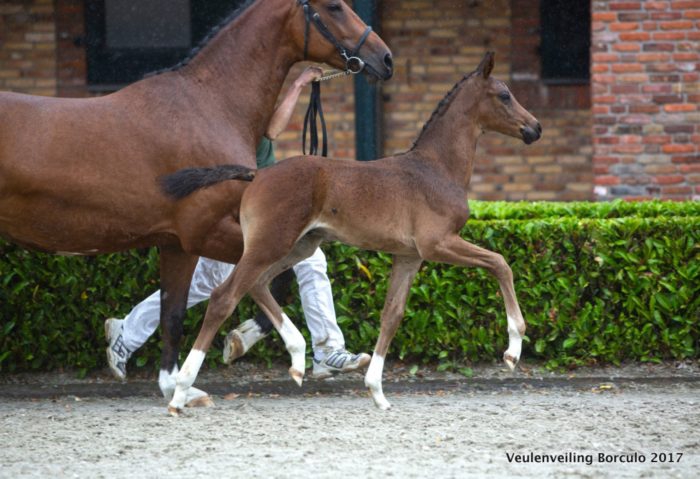 Early this year Nol Gerritsen became a member of the selection committee of Foal Auction Borculo. Together with Eugène Reesink he is responsible for the collection of dressage foals to be auctioned on Thursday 31 August. An interview by Karin De Haan from De Hoefslag.
Hoefslag: We need not ask you if you already knew Foal Auction Borculo…
Nol: 'Haha, no, of course not! 'Borculo' is a name everyone knows who has anything to do with breeding. I have visited it every year. Years ago I often prepared the foals from breeder Huub van Helvoirt for this auction. He sold, amongst others, National Mares Selection champions Zhara-Obertje (by Jazz) and her half-sister D-Obertje (by San Remo), National Mares Selection Dendy (by Jazz) and the later KWPN- and SWB-licensed stallion Zuidenwind (by OO Seven) as foals via 'Borculo'.'
 
Hoefslag: Did you ever buy a foal there yourself?
Nol: 'No, I did not, there are plenty of foals born at our De Dalhoeve!'
 
Hoefslag: You formed a new committee. To what extent has that changed the views on the selected foals?
Nol: 'Borculo has always selected very good foals and we tried to continue in that tradition. Emmy de Jeu, who was on the selection committee in previous years, played an important role in this. She also knows many reputable breeders and had a vast network.?For 2017 we again have a splendid collection, I believe, with foals of which we suspect that they are precisely the foals people are looking for: foals that can move, foals with charisma, foals with sport in the pedigree.'
 
Hoefslag: To what extent is the ancestry important?
Nol: 'Let me say first of all that the foal itself and not its papers were decisive. In principle we want the dam to have at least earned a 'ster' predicate. But foals from ancestries with less predicates that have not yet produced considerable sport results were also taken when the quality of the foal itself suggested this.'
 
Hoefslag: Can you mention a few remarkable foals?
Nol: 'Several good offspring of Franklin and Daily Daimond will go under the hammer, as well as a few handsome Chippendale and Dream Boy products.'
 
Hoefslag: Last year the most expensive foal was knocked down for 35,000 euro. Do you expect that the bidding will go as high as that also in this edition?
Nol: 'That price was paid for Luxury Star-K van 't Kattenheye (by For Romance). This year we selected her full brother, Magnify-K van 't Kattenheye (photo). We believe that he is still better. How a little foal will show itself in such a strange and busy environment is always a bit of a gamble. We shall see… our expectations are very high, justifiably I believe, and that goes for the entire collection.'
Source: De Hoefslag
Created By

Copyright sporthorse-data.com 2005-2020. All rights reserved data is protected by database right.