Brilliant Brash Tops British 1-2 at Spectacular LGCT London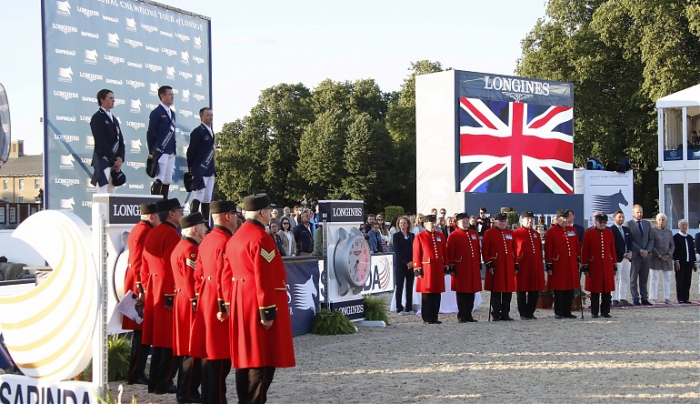 Great Britain's Scott Brash (GBR) and Hello Forever wowed a sell-out crowd with a phenomenal home win in the Longines Global Champions Tour Grand Prix of London presented by Sapinda. Scott Brash and his London 2012 teammate Ben Maher took the top spots almost five years to the day since they won Olympic gold in the team jumping.
God save the Queen rang out over the jubilant crowd at the Royal Hospital Chelsea, as it was a British one-two in a breathtaking display of showjumping, featuring 9 out of the top 10 in the world. Ireland's Denis Lynch finished third with Tour leader Harrie Smolders in fourth.
With a €300,000 prize up grabs, the track was going to be a big ask of horse and rider. The technical London-themed course - including obstacles featuring Big Ben, the London Underground and Horseguards - was built to a maximum height of 1.60m, but it was a race against time to not only go clear but to secure a coveted spot in the jump-off against a field that featured nine of the top ten riders in the world.
The tricky treble combination caused problems in the first round for Ramzy Hamad Al Duhami (KSA), Danielle Goldstein (ISR) and Darragh Kenny (IRL). However, it proved to be a very jumpable course as a total of 11 pairs cleared the first round and went through to the jump-off.
There was disappointment for national hero John Whitaker on his 62nd Birthday. Despite starting off well on the nine-year old Cassinis Chaplin, the stallion put in a sudden refusal, unseating John over the fence. Spectators were relieved as it was announced John was speaking with the medics and was taken to hospital for medical checks.
Determined to deliver a strong round Scott Brash rode into the ring with the fire-cracker Hello Forever, watched by owners Lord and Lady Harris and Lord and Lady Kirkham. To the delight of the crowd, who held their breath throughout the round, the popular pair delivered a foot-perfect clear, ensuring Great Britain would be in the jump-off. The crowd were doubly hopeful for a home win, after Ben Maher quickly followed with a text book round to take prime position in the hotly contested jump-off.
First up were pathfinders Christian Kukuk (GER) and grey stallion Colestus. They were the first to attempt a hair pin turn from the second fence into the double. They flew over the Longines planks, the final fence, to go clear in a time of 42.84s.
Overall Ranking leader Harrie Smolders (NED) and Emerald N.O.P. were next and the charismatic chestnut stallion gave an excited buck as they galloped to the start. The pair flew around the course breaking the 40s barrier to go into the lead on 39.48s – it would be a tough time to beat, but was only good enough for fourth place in the end.
Martin Fuchs (SUI) set off at a blinding pace as he entered the ring on his grey gelding Clooney 51 signalling his intent to go after the time. But the young Swiss star wasn't as economical around the corners meaning he was not quick enough to catch Smolders and finished in fifth overall.
Maikel van der Vleuten (NED) and VDL Groep Verdi TN made a costly mistake as he flattened over the fourth fence to finish on a disappointing four faults. Similarly Bertram Allen (IRE) had a fence down as Hector van d'Abdijhoeve fought for his head and had the second part of the double down followed by fence four to finish on eight faults.
After his success in yesterday evening CS15*, spectators knew that Nicola Philippaerts (BEL) would go for the win. He urged nine-year old Chilli Willi over the fences as he galloped to the last, but 40.70s was only good enough for sixth.
Fresh off his victory with Miami Glory in the Global Champions League, Denis Lynch (IRE) went for it. All Star 5 flew around the fences kicking up his heels. The crowd could not contain their excitement as he headed to the last and a loud cheer went up as he set the time to beat of 39.85s.
The crowd went wild as the penultimate rider Scott Brash cantered into the ring on Hello Forever. There was an audible gasp as he successfully completed a handbrake turn into fence five, but Hello Forever galloped around the remainder of the course to go into first on a heart-pounding time of 38.62s.
British flags were already flying in the packed grandstands as as Ben Maher entered the ring to a huge cheer. He went for it and there was a hair's breadth between him and Brash as he galloped to the last on MTF Madame X. Horse and rider cleared the fence to a roar from the crowd in a time of 38.86s – a mere 0.4s slower than Brash but good enough for a British 1-2.
Scott Brash said: "It's been a great day and I am absolutely delighted. It was a very fast jump-off, but thankfully Hello Forever pricked his ears and went for it. He is an incredible horse and he really did his best for me; you have to be on your toes when you're riding him, but he's fast and athletic. I love winning in front of a home crowd and this has been amazing venue."
 
The patriotic atmosphere heightened even further in the prize giving as The Chelsea Pensioners joined the line-up next to the podium and were applauded by the crowd. It capped a stunning two days where thousands of passionate fans and international guests witnessed top sport in front of the iconic Royal Hospital Chelsea with guests including double Olympic Gold medallist Victoria Pendleton and model Jodie Kidd, who declared the event as "amazing".
There are only three stages left on the 15-event Championship race as the Tour heads to Valkenswaard in the Netherlands. Harrie Smolders remains at the top of the leaderboard on 263 points edging away from Alberto Zorzi in second on 245 points and Christian Ahlmann in third on 220 points.
 
Jan Tops, Founder and President Longines Global Champions Tour: "This is how you would write a perfect script. Of course in England, the home crowd is great, and you see that with many events where the national riders do miracles. Like last week we saw the same with Christian in Germany, he was amazing, and this week we saw the extra cheer for the home team, and it worked. And this year was special because the first and second were British it was a 600th of a difference, that's amazing for the sport to see."
 
Scott Brash, winner: "I'm very happy with the day. Obviously, our thoughts are all with John, but it sounds like its good news for him going forward. I think it was even more important then, to try and get a British win and it's great to get a one and two in the home leg. [Hello Forever is] an incredible horse, you have to be on your toes when riding him, but he's an incredible horse. He jumps when you get there, he's fast and he's athletic. He's got everything and yeah he gave his all today. I must say Ben did have me sweating there at the end! I saw a few horses went 8 strides one to two, but I didn't feel it suited my horse. So, I was already going to go 9 one to two, and knew I was going to be a bit behind. So, I thought I needed a good turn, and kept it as fast as I could all the way home. I managed to see a good forward distance, and luckily Forever pricked his ears and really went for it."
 
Ben Maher, 2nd place: "I had a good start to the day with Don Vito, then decided to make the change. With Madame this was my second show on the horse. It hasn't been working for me using the same horse in the GP, so I made the change and my horse jumped incredibly today. I don't know what more I could have done in the jump-off. I said to Scott that maybe if I ate a little less last night then maybe I could have been quicker! Scott is one of the fastest riders in the world, and if I was going to be beaten by anybody, then for sure a home win is always good for the sport in our country. Like Harrie said, I can be biased, because we're here in London but it's always great to ride here and see the support in London. I think it will only grow here, in the next few years. It's an amazing venue, everything is good for the horses and the riders - I really enjoyed it, and again, just congratulations to Scott."
 
Denis Lynch, 3rd place: "I've got two great horses so expectations are quite high for things to go well. I'm delighted with both horses. It's not the quickest horse, we're all aware of that, it went my way. I added less stride maybe here and there. The horse that came after me had a quicker horse across the fence. But I'm delighted with my horse, and on to the next one."
 
Harrie Smolders, LGCT Ranking leader: "I think in the first place we have to compliment the organisers of the show, for the first time in this setting, it's beautiful and we saw an incredible level of show jumping. We had a number of clears, the horses like to be in this ring. They don't feel pressure. With 9 out of the 10 best riders here in the world, you are going to get sport like this and it's great."
Photo: LGCT / Stefano Grasso
Created By

Copyright sporthorse-data.com 2005-2020. All rights reserved data is protected by database right.