Goodbye Special Friend Ballaseyr Royale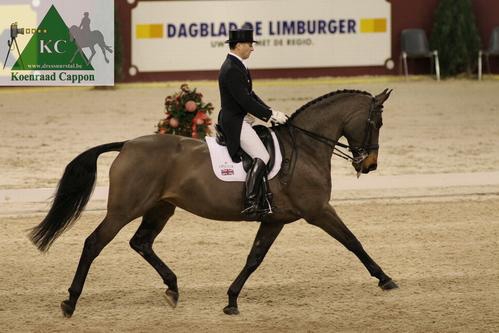 British Dressage is sad to learn from Richard Davison's team at Combridge that this morning they said goodbye to yard matriarch, Ballaseyr Royale, aged 27.  Richard reported that 'she looked very well but old age had recently started to take its toll'.
Owned by Gwendolyn Sontheim, 'Royale' represented Great Britain at Olympic, World and European Championships as well as FEI World Cup Finals and was the 2003 National champion, all with Richard in the saddle.  Earlier that year, the duo were part of the European Championship team which claimed a historic bronze at Hickstead, scoring 70%+ in all three tests.
Bred by Inge Kataballe in Denmark, Royale (Picandt x Matador) was retired fit and sound after the Athens Olympics in 2004 and Richard and Gwendolyn decided to breed from her.  Her first foal was by Lingh, duly named Bubblingh, and is Richard's current Grand Prix ride.
Richard said; "Today is a very sad day for us all at Combridge. I know I am not the only one to shed tears at her passing as Royale held a special place in the hearts of all our staff both past and present. I would like to thank all of them and everyone else who contributed to Royale's care including our travelling grooms, vets, farrier, physio, Louise Morton and all of the support team within Team GBR and the UK Sport World Class Programme.
"But I will always be most indebted to Royale's owner, our loyal supporter and friend Gwendolyn Sontheim, for granting me the privilege of riding Royale and entrusting her care to me.
"Royale's story is not only that of an extraordinary and wonderful horse, but also of an on-going journey that united so many special people. This was part of her legacy; this was her gift.  We'll miss her big kind eyes and huge ears, always pricked forward."
Created By

Copyright sporthorse-data.com 2005-2020. All rights reserved data is protected by database right.