Merseyside magic from Irish teenager Christopher Megahey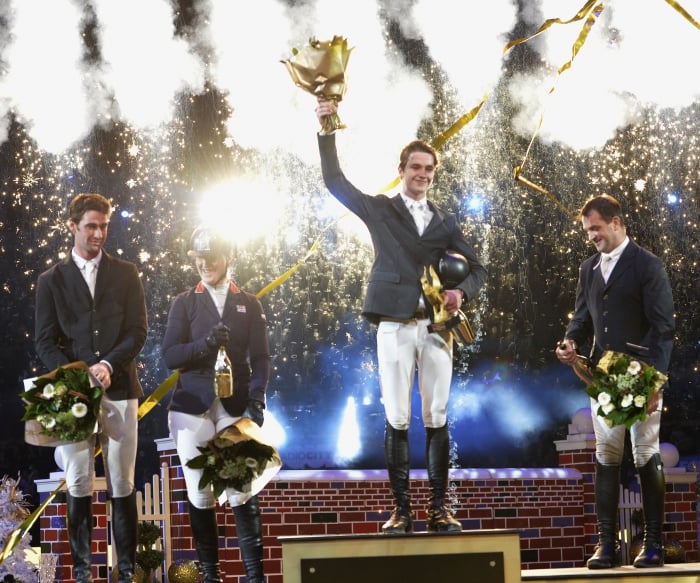 The final international Show Jumping competition of 2016 saw Irish horses and riders finish the year in stunning fashion, as Antrim teenager Christopher Megahey led an Irish domination of the New Years Eve Puissance competition at Liverpool International Horse Show.
Irish riders filled five of the top seven places, with Megahey and The Irish Sport Horse Seapatrick Cruise Cavalier, the only combination to clear the big red wall at it's final height of 7ft (2m12).

Liverpool Puissance winner Chris Megahey and The Irish Sport Horse Seapatrick Cruise Cavalier
The 18-year-old from Templepatrick in Co Antrim shared the winners prize in the Puissance at London Olympia just before Christmas and he completed a double of British wins with a foot perfect five rounds of jumping in front of a packed audience at the Echo arena in Merseyside.
"I am really happy," Megahey said after collecting just over €4,000 for his victory. "He is not a normal horse, he is very special. We've had him since he was an eight-year-old, and we have never quite found what to do with him. He Evented for a while, and then I jumped him for a while, and we sort of fell into Puissance and I have to say, ever since we started, he has been a real star.
"I love the Puissance. You get a little bit nervous with him, because you don't know what he can do, but as long as you get him to the right spot, he will always try his best. The Puissance is a competition that the crowd love, and the atmosphere in there was brilliant," said the Irish teenager afterwards.
Megahey was joined in the final round by fellow Irish rider Peter Smyth from Co Tyrone and the Irish Sport Horse Cavalier Rusticana – who won the Liverpool Puissance in 2015. They faulted at the final attempt to finish as runners-up on this occasion. Derry-born David Simpson riding Polystar shared third place with Britain's Holly Smith riding another The Irish Sport Horse, Quality Old Joker. Billy Twomey finished in sixth place with Diaghilev, while Michael Kerins finished seventh riding Crass Clausi.
The Puissance result crowned a superb first day of action for the Irish in Liverpool, where Cork's Billy Twomey won the earlier Horseware Ireland jump-off class with The Irish Sport Horse Ardcolum Duke (pictured above). Tipperary's Shane Breen also finished on the podium taking third place with Guidam Van Het Achterhoek while former World Champion Dermott Lennon finished sixth with Loughview Lou-Lou (ISH)
The Liverpool International Horse Show continues until Monday.
BREEDING:
1st Seapatrick Cruise Cavalier (ISH) – 2002 gelding by Cruise On (ISH) out of Cavalier Countess (WNTR), by Cavalier Royale (HOLST). Breeder: Noel Walsh, Co. Carlow. Owner: Britt Megahey. Rider: Christopher Megahey (IRL)
2nd Cavalier Rusticana (ISH) – 2006 gelding by Try-Time (KWPN) out of Coppa Leaf (ISH), by Cavalier Royale (HOLST). Breeder: Martin Kenny, Co. Tipperary. Owner: Mary MacCarthy. Rider: Peter Smyth (IRL)
=3rd Quality Old Joker (ISH) – 2008 gelding by OBOS Quality 004 (OLD) out of Little Joker (WNTR), by Slyguff Joker VII (WNTR). Breeder: Roberta Dowley, Co. Kilkenny. Owner/Rider: Holly Smith (GBR)
Created By

Copyright sporthorse-data.com 2005-2020. All rights reserved data is protected by database right.