Ten great racehorses who truly transcended the sport from 10 to 6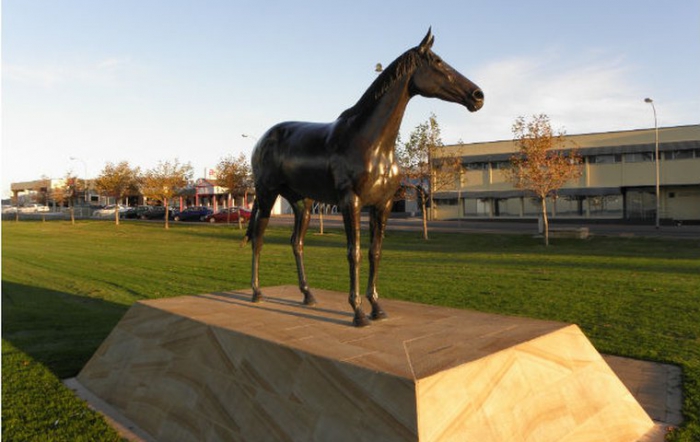 This list is based not on ability or achievement on the track, but on the impact the top horses have had on the general public, how well they were known outside horse racing, how much of a household name they became.
Any Thoroughbred that competed anywhere in the world after the Second World War was in the running.
Today we count down from 10 to 6. The top five will be revealed in the next article.
----------
10. MAKYBE DIVA
(1999 - )
Desert King - Tugela (Riverman)
Breeder: Emily Kristina (Aust) Pty Ltd
Owner: Tony Šantić
Trainers: David Hall/Lee Freedman
Jockey: Glen Boss
How great was she on the racecourse?
They were ready to anoint her after her second Melbourne Cup win (only the fifth horse - and the first female - to win 'the race that stops the nation' twice since it was first run in 1861). That and victory in two of Australia's biggest weight-for-age Group 1s later that same season (2004-05) made her the greatest staying racemare the Southern Hemisphere had ever seen. Racing-mad Australia adored her.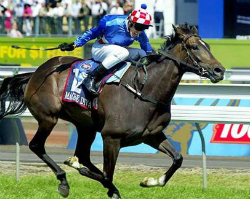 And then she went and won the Cup the next year too.
Makybe Diva's unprecedented third Melbourne Cup was an imperious performance, the 17-5 favourite and top weight surging clear of 23 rivals to give the 106,000 crowd something that had barely been considered possible.
But she cannot be pigeonholed as merely a stayer. She won two of Australia's top mile-and-a-quarter Group 1s and a Group 2 over seven furlongs in her final year on the track (remember - the Melbourne Cup is run over two miles).
The third Cup victory came just 10 days after one of those G1 wins - a comfortable success in Australia's most prestigious weight-for-age race, the Cox Plate.
Makybe Diva (photo: horseraceaustralia.com) seemed to be getting better with age.
And afterwards ...
The British-bred mare was retired after that historic day on November 1, 2005, the winner of 15 (of 36) races, seven of them Group 1s, and an Australian record Aus$14 million in prize money.
So far Makybe Diva's progeny have met with little success. She has produced offspring by Galileo, Fusaichi Pegasus, Encosta Da Lago, Lonhro, High Chaparral, All Too Hard and Starspangledbanner. But there's still plenty of time, and indeed the Lonhro colt, Taqneen, now 5, won his first race at Balnarring, near Melbourne, last month.
Why she's on this list
Her many honours include two Australian Horse of the Year titles, and the inaugural Sport Australia Spirit of Sport award (for 2005). There's still a thriving business in Makybe Diva memorabilia. Just check out her Facebook page to see how popular she remains.
But what else would you expect of a three-time Melbourne Cup winner (not that there's ever been another one). The race is probably more of an institution in Australia than any other race is in another other nation (Melbourne Cup day is a public holiday in Victoria).
Which is why trainer Lee Freedman was moved to say after win No.3 for Makybe Diva: "Go find the smallest child on this course, and there will be the only example of a person who will live long enough to see that again."
The statue at the top of the page is Makybe Diva, by the way. This one is at Port Lincoln, South Australia.
9.
RUFF
IAN
(1972-75)
Reviewer - Shenanigans (Native Dancer)
Owner-breeder: Stuart and Barbara Janney
Trainer: Frank Y Whiteley Jr
Jockey: Jacinto Vasquez
How great was she on the racecourse?
She was the best filly or mare of the 20th Century, according to TheBlood-Horse list of Top 100 [U.S.] Racehorses of the 20th Century. They ranked her the 35th best horse overall. Ruffian (photo: ruffianrunners.weebly.com) ran 10 times (between 5 ½ furlongs and a mile and a half), not only winning all 10 but never actually being headed by another horse at any stage. We'll come to race 11 - her last - in a moment.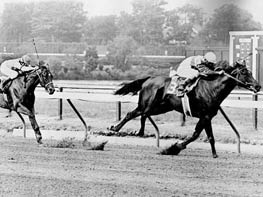 Ruffian's CV was littered with track records, and her average winning distance was 8 ⅓ lengths, although, perhaps ominously, she did suffer relatively serious leg injuries during two of those 10 races.
She won the Eclipse Award for Champion 2-year-old filly in 1974, and the following year became just the fourth horse to take the Filly Triple Crown (and was also Champion 3-year-old Filly).
At one point, she received this tribute from Lucien Laurin, trainer of Secretariat: "As God is my witness, she may even be better than Secretariat."
Why she's on this list
Race 11, Ruffian's last, was run at Belmont Park on July 6, 1975. 'The Great Match' as it became known (all the other entries were withdrawn, leaving just two) pitted the filly against the reigning Kentucky Derby winner, Foolish Pleasure.
The country was enthralled, but the clash took on a whole new significance, having been seized on by the media as a Battle of the Sexes. In truth, very few expected Foolish Pleasure to prove much of a match for the filly, especially his jockey, Jacinto Vasquez, the regular rider of both. Vasquez chose to partner Ruffian without a second thought.
There were more than 50,000 at Belmont, and a national TV audience of around 20 million, as the gates opened. Few of them were ever to see a sadder sight.
Ruffian was about a length in front at around the half-mile mark when the two sesamoid bones in her right front leg cracked. She tried to race on, which only made the devastating injury worse. She was operated on, but thrashed about so much as she came round that she did further damage and had to be euthanized.
And afterwards ...
Ruffian's death caused a public outcry, with demands for improvement in the treatment of injured racehorses. A recovery pool has since been developed so that they regain consciousness in warm water and are much less likely to hurt themselves. The Ruffian Equine Medical Centre opened at Belmont in 2009.
Ruffian is buried on the infield at Belmont, with her nose pointing towards the finish line.
She was immortalised in song by Joan Baez, who dedicated a version of the famous folk song Stewball to the filly. She was the subject of the 2007 TV Movie Ruffian, and a number of books, including Lyn Lifshin's collection of poems The Licorice Daughter: My Year with Ruffian.
8. AMERICAN PHAROAH
(2012 - )
Pioneerof The Nile - Littleprincessemma (Yankee Gentleman)
Owner-breeder: Zayat Stables Llc
Trainer: Bob Baffert
Jockey: Victor Espinoza
How great was he on the racecourse?
In case you need a reminder, this is the colt who last year became the first to win the U.S. Triple Crown for 37 years. He was already certain to be Horse of the Year at that point, but he went on to produce two monumental performances in the Haskell and the Breeders' Cup Classic, after which he was officially declared World Champion (the highest rated horse on Earth in the annual Longines World's Best Racehorse Rankings). He was ranked four pounds ahead of Golden Horn, winner of the 2015 Epsom Derby, Eclipse Stakes, Irish Champion Stakes and Prix de l'Arc de Triomphe, and eight pounds clear of anything else.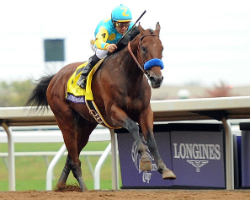 American Pharoah (photo: FrankSorge/Racingfotos.com) set a single-season earnings record for America, winning $8,288,800 in his 3-year-old year.
That Breeders' Cup victory at Keeneland meant he became the first horse to win what we now know as the 'Grand Slam' (the Triple Crown plus the Breeders' Cup Classic). The Breeders' Cup, of course, didn't exist the last time there was a Triple Crown winner on the racetrack.
Of course, we'll never know just how good American Pharoah may have been as he was retired to Coolmore's Ashford Stud in Kentucky immediately after Keeneland, as had always been the plan. The suspicion, however, is that a campaign as a 4-year-old against another generation could have satisfied the purists that here indeed was a champion to stand alongside the very greatest.
And afterwards ...
Pharoah begins his breeding career this spring at a stud fee of $200,000 (the equal fifth highest in the world). But that hasn't put anyone off. Ashford reported "the biggest response we've ever seen", with breeders lining up to send elite mares to the champion.
It will be 2019, of course, before we get to see the first American Pharoahs on the racecourse.
Why he's on this list
Well, he's a must, isn't he? You know how much America had been yearning for a Triple Crown winner for the past 3.7 decades. You know how much it rejoiced when they finally got one.
American Pharoah didn't have to do any more to become a national hero, but he did. He won more races, of course, but his nature - he was described by trainer Bob Baffert as "really sweet and really mellow" - endeared him to the public still further. They just couldn't get enough of him - so much so that 15,000 of them turned up just to watch him do morning exercise at Saratoga in August.
This is not the 1950s or 60s, when horse racing thrived, when it was an integral part of western culture. The sport has faded in the U.S. consciousness since those heady days. When American Pharoah made the front cover of Sports Illustrated in June last year, he was the first racehorse to do so for six years and only the fourth racing story in the last 32. Between 1954 and 1968, there were 30 racing stories on that same cover.
Yet the adulation the horse has inspired earned him 47 percent of the vote in an online poll to find out who Sports Illustrated's readers thought should win the magazine's coveted Sportsperson of the Year award. The poll was just an excuse for a bit of interaction with the readers, of course, and the editors gave the award itself to the remarkable Serena Williams, but as a measure of American Pharoah's place in the nation's heart, it was a magnificent indicator.

7. KELSO
(1957 - 1983)
Your Host - Maid Of Flight (Count Fleet)
Owner-breeder: Bohemia Stable (Mrs. Allaire du Pont)
Trainers: Dr. John Lee/Carl Hanford
Jockeys: principally Eddie Arcaro and Ismail Valenzuela
How great was he on the racecourse?
The thing about Kelso was his prodigious longevity. He came back year after year after year after year and kept on beating the best around. He carried on racing so long because owner Allaire du Pont had him gelded before he even raced (apparently he was a bit of a troublemaker as a youngster).
His record is awesome:
63 races between 1959 and 1966, 39 victories and another 14 in the frame (and remember he was giving great lumps of weight away in many of those races).

A then record $1.98 million in prize money.

11 consecutive victories across 1960-61.

Five consecutive Jockey Club Gold Cups (then America's top all-aged race).

He won on 14 tracks in six states and set nine track records.

One world record (3 mins 19.1 secs) for two miles on dirt (Jockey Club Gold Cup at Belmont in 1964).
Kelso missed the 1960 Triple Crown races, but his achievements and his place in history dwarfed those of any horse that did take part in them.
The Blood-Horse list of Top 100 [U.S.] Racehorses of the 20th Century had Kelso at No.4.
And afterwards ...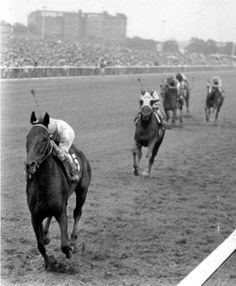 Kelso (photo: pinterest.com) was found to have a hairline sesamoid fracture after finishing fourth in his last race - a sprint at Hialeah - early in 1966, and he was immediately retired. But he continued to thrive in his second career - primarily hunting and showjumping, with a number of public appearances thrown in.
He died the day after his final public appearance - at Belmont on Jockey Club Gold Cup day in 1983, alongside two other formidable geldings, Forego and John Henry.
Why he's on this list
The longer a top-class horse's career, the bigger his fanbase, and Kelso was the classic example. Just imagine the crowds he pulled in as his 63-race career developed. This was a horse who raced with an astonishing level of consistency, ready to give his all every time. He had a fan club and his own mailbox for the vast quantities of mail that arrived for him at Mrs. du Pont's Maryland farm long after he ran his last race.
Yet his greatest claim to fame was his Horse of the Year titles. It's a monumental achievement for a horse to win just one in his life and something almost beyond belief to win two. One horse, Forego, actually won three (1974-76).
Kelso won five (1961-64). 
6. BLACK CAVIAR
(2006 - )
Bel Esprit - Helsinge (Desert Sun)
Breeder: Rick Jamieson
Owners: G. J. Wilkie, K. J. Wilkie, Werrett Bloodstock Pty Ltd, C. H. Madden, J. Madden, P. A. Hawkes, D. M. Taylor and J. Taylor
Trainer: Peter Moody
Jockey: Luke Nolen
How great was she on the racecourse?
Undefeated in 25 races (15 of them Group 1), world champion sprinter (Longines World's Best Racehorse Rankings) in 2010, 2011, 2012 and 2013 and rated the equal best filly or mare in the world since 1948 by Timeform (which started its ratings in 1948). Does that answer the question?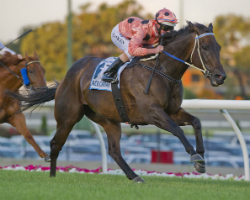 In an era of super-sprinters in Australia, she blew them all away - and then some (photo: Racingfotos.com).
The one blemish on her blemish-free CV came when she went to Royal Ascot in 2012 for the Diamond Jubilee Stakes. And she still won.
Black Caviar's unbeaten run had already stretched 21 races, and such was her reputation that she started at 1-6 even against the fastest horses in Europe (she started at even more prohibitive odds on no less than 16 other occasions). Maybe she didn't seem to race with her usual zing, but she looked to be doing enough to win relatively cosily when jockey Luke Nolen inexplicably began to ease her up in the final half-furlong.
Since she was barely a length clear and six-time Group 1 winner Moonlight Cloud was among those bearing down on her, this was folly in the extreme. Almost too late, Nolen realised, rode the few remaining strides in vigorous panic, and Black Caviar had a head to spare at the line.
And afterwards ...
Black Caviar's first foal, a filly by Exceed And Excel, was born on 13 September, 2014. A year and 10 days later, she gave birth to a colt by Sebring. Her next mating is to be with Snitzel.
Why she's on this list
The Australian public became increasingly obsessed with Black Caviar as her remarkable career progressed. By the time of her trip to England, she was a national cause célèbre.
Australia stayed up past midnight to watch the mare run at Royal Ascot - notice the huge crowds watching on the giant screen erected in the centre of Melbourne in the YouTube video of the race linked to above.
Her celebrity has continued to this day. The births of her foals have been front-page and TV news, her picture has been on the cover of Australian Vogue and she has been the subject of three episodes of the popular TV documentary program Australian Story.
A rose has been named after her, as has a line of horse care products, and a series of children's activity sheets. She has more than 70,000 followers on Facebook and Twitter. Her website is blackcaviar.net.au.
Article by Chris Smith
Former Racing Post editor Chris Smith trained as a news journalist on regional newspapers in Britain before spending three years on the Gulf Daily News in Bahrain. He joined the Post just before its launch in 1986 and became editor in 2002. He left six years later to pursue other projects in racing media. He lives just outside London with his wife, who is a schoolteacher, and two teenage children.
Created By

Copyright sporthorse-data.com 2005-2020. All rights reserved data is protected by database right.