A foal with abnormal behavior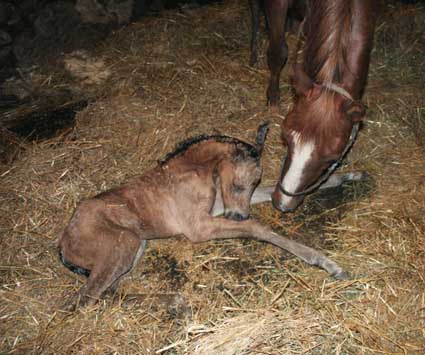 Shortage of oxygen to the brain of a newborn can result in a so-called dummy foal
by Heather Smith Thomas
"DUMMY FOAL" is a layman's term for a noninfectious condition that sometimes affects a newborn foal. The youngster shows abnormal behavior such as excessive sleepiness, aimless wandering, teeth grinding, odd posture, or generalized seizures.
The term neonatal maladjustment syndrome has been used for foals that exhibit behavioral or neurological abnormalities at birth that are not due to infectious or toxic conditions, developmental or congenital abnormalities, or metabolic disorders. Affected foals also have been called wanderers or barkers because some of them make unusual vocalizations.
William V. Bernard, D.V.M., has dealt with a number of these foals at Rood & Riddle Equine Hospital in Lexington. He said a more accurate term for the condition is hypoxic ischemic encephalopathy (HIE). Most foals that show central nervous system signs during the first days of life have suffered from a shortage of oxygen to the brain. Bernard said this lack of oxygen is usually due to compromised blood flow or to decreased oxygen level in the bloodstream, which can occur before, during, or just after the birth of the foal.
This factor, coupled with a pathologic history similar to that described in other species with experimentally induced oxygen shortage, suggests that hypoxia (reduction of oxygen supply to the tissues below healthy levels) and ischemia (deficiency of blood to the tissues) are important factors in HIE syndrome in foals, according to Bernard.
"Interference with blood flow and oxygen delivery before birth can result from placental insufficiency or interference with uterine blood flow," Bernard said. "A wide variety of conditions may result in interference with blood flow and oxygen delivery during the birth process-such as obstruction of umbilical blood flow, premature placental separation (the placenta detaching from the uterus), decreased uterine blood flow, and dystocia (prolonged parturition or difficult birth)."
Brief oxygen deprivation
During a normal birth, the foal goes through a brief period in which it has no oxygen supply from the dam and has not yet begun to breathe on its own. This brief oxygen deprivation does not adversely affect a normal, healthy foal, Bernard said, "but a compromised foal may not be able to compensate; a cycle of events leading to exacerbation of oxygen deprivation may result."
A foal also may develop problems immediately after birth if it has impaired blood flow due to inadequate cardiac output. Some foals have trouble making the transition from fetal to independent blood circulation, and blood flow to the brain may be inadequate.
The result of oxygen shortage in body cells leads to swelling of the cell membranes and intracellular edema, said Bernard. This leads to increased pressure in the brain tissue, decrease in blood flow to the cerebrum, and generalized brain swelling. Swelling and pressure soon lead to tissue death. The cells dying in the brain lead to more swelling, locally or diffusely, Bernard said.
Symptoms of HIE
Signs of HIE can vary greatly. Some foals are a bit slow and wander around the stall, while others have violent seizures or go into a coma, depending on the severity of damage to the brain, Bernard said.
Foals with mild cases might show signs that include no recognition of the mare, inability to nurse, aimless wandering, and intermittent periods of depression or "stargazing." The foal may have spasms of the facial muscles, curl its lip or exhibit chewing motions, or have abnormal respiratory patterns. On rare occasion, a foal has abnormal vocalizations that sound like barking. The affected foal might sleep a lot or be difficult to arouse when sleeping. Foals with mild signs may recover without permanent problems, or the condition could progress to more obvious and severe indication of central nervous system disease, said Bernard.
"Some foals may be normal at birth and show no evidence of central nervous system disease for hours or days after delivery," he said. "Others may show evidence of violent central nervous system activity immediately or shortly after birth. The variation in onset of clinical signs is likely related to the degree of cell damage resulting from the lack of oxygen, and possibly to the degree of edema that occurs as a result of cell death."
In severe cases, foals are unaware of their surroundings or seem blind. Often this condition progresses to convulsions. Seizures may come on suddenly, but the foal has usually shown at least one early sign before it experiences convulsions. The foal may show some stretching activity (which could be a mild early seizure) before experiencing a seizure. While lying down, the foal might extend its front legs and lift its head before relaxing back to sleeping position, Bernard said.
Seizures could be brief or progress to severe convulsions. Some foals paddle violently with their legs. The foal with repeated or continuous seizures is usually in a stupor or coma between seizures. Some foals slip into a state of stupor without developing seizures, however.
In some cases, the foal seems normal during the first hours or days after birth. "Onset of seizures has been reported to be as late as four to five days," Bernard said. "Neonates can also be seen with central nervous system signs immediately after birth. Duration of clinical signs can also vary. Seizures can be very brief-with single or no seizures-or the foal may be in a persistent stupor for several days."
Affected foals usually recover in the reverse order in which the central nervous system signs developed. The foal that is in a stupor gradually becomes aware of its environment then progresses to being able to stand, walk, and nurse the mare.
"Typically, when foals recover from prolonged central nervous system derangement, relapses do not occur," Bernard said, but cases have been seen in which the foals did relapse-with more seizures-after they were in a prolonged stupor.
Factors in diagnosis
Diagnosis of HIE mainly depends on clinical signs, history of the foal, and elimination of other possible causes of central nervous system disease. Physical examination, blood count, negative blood and bacterial cultures can rule out infection, which can be a cause of depression. Diseases or conditions that may result in seizures in horses are many, but most do not cause seizures in newborn foals, Bernard said.
Conditions that most frequently cause central nervous system derangement in newborns include cerebral contusion or hemorrhage, hydrocephalus (water on the brain), and bacterial meningitis. The differentiation between a foal with hydrocephalus and one with HIE can be difficult, Bernard said. In either case, central nervous system abnormalities are not always present at birth, but might appear a bit later. Seizures in foals with water on the brain can be severe and violent-and difficult to control.
The foal with meningitis might have a fever. Laboratory tests generally are not helpful, except for excluding some of the less likely causes of central nervous system disease, such as metabolic or liver disease.
Treating an affected foal
Good nursing and supportive care are crucial for saving a foal with HIE.
"As far as actual treatment, there is no magic drug for this," Bernard said. "There is some research that has been done with certain drugs in laboratory animals, looking at medications that may be beneficial in the future [for humans and horses], but these medications are not currently being actively used. There is no individual therapy that can resolve the problem, because basically what's happening is cells dying in the brain due to lack of oxygen or blood flow."
Treatment is primarily aimed at controlling seizures, if present, and will depend on their severity. A mild, brief seizure might not need treatment but, if convulsions recur or become severe, treatment is necessary to prevent injury to the foal, reduce stress, and conserve energy. A variety of anticonvulsant drugs are available to control seizures; the choice depends on whether immediate, short-term control is needed or more long-term medication is necessary, Bernard said.
If long-term control is necessary, barbiturates are used and are generally safe if given slowly and in proper dosage. Phenobarbital, for instance, can be given over a 20- to 30-minute period, but halted if desired effects are achieved before the full dose is administered. Diluting the drug in saline is useful, said Bernard, to make gradual administration easier. The drug can be repeated as needed. Once the seizures are controlled, oral administration can be used for maintenance to keep the seizures from recurring.
If the foal has not been able to nurse the dam, failure of passive transfer most likely will result in complications; a foal that has not received antibodies from colostrum is at high risk for septicemia, pneumonia, diarrhea, and other infections. Serum immunoglobulin levels should be checked. Bernard recommends broad-spectrum antibiotic treatment for prevention of infection in the compromised foal.
The foal should be continually monitored (temperature, heart rate, fluid balance, respiratory rate and effort, mucous membrane color, etc.) and additional oxygen or fluid can be given, if needed. Heat lamps, heating pads, blankets, warm water beds or other means may be necessary to keep the foal warm. If the foal is down and thrashing, it might need to be manually restrained on a soft surface so it cannot injure itself. The side of the head that is down (especially the eye) should be protected.
Feeding the foal
Nutritional therapy is also of crucial importance if the foal cannot nurse. If it can stand but will not suckle, Bernard suggests using a nasogastric tube that is left in place for frequent feedings. The foal needs at least 10% of its body weight in milk during a 24-hour period, and this should be split into individual feedings every one to two hours.
If the foal is unable to stand, but can roll up onto its chest with head up, tube feeding is still possible, though care should be taken not to overfeed the recumbent foal. If the foal is in a stupor and unable to raise its head, Bernard recommends dextrose be given intravenously, or more complex nutrition provided by some other route than through the digestive tract.
"Intravenous fluids should be used judiciously in foals with HIE because over-hydration may worsen cerebral edema," he said. "It is wise to restrict fluid administration unless a secondary complication requires additional fluid therapy. When determining how much fluid the foal should be given, any oral fluids must be taken into account. A foal that is receiving 10% of its body weight in milk may not need additional intravenous fluids."
Reducing brain swelling
Medications to reduce the swelling in the brain may also be helpful in treating these foals. "These medications are not cures-this is not a situation where you can give an injection to resolve the problem," Bernard said. "Certain medications may help, however.
"Intravenous DMSO [Dimethyl sulfoxide] or mannitol can be useful in the acute stages of cerebral edema. Mannitol is a drug that when given intravenously draws fluid from the tissues; it draws fluid from the body into the blood vessels, to be excreted in the urine. Some practitioners also use a slow drip of magnesium, which may help protect some of the neurons in the brain.
"Hypertonic solutions [that pull fluid out of the cells, hence reducing edema] such as mannitol, should be used only if there is no cerebral hemorrhage present, or the swelling may be increased," Bernard continued. "The use of corticosteroids to reduce the swelling is controversial, because these drugs can result in immune suppression. They also can increase cerebral blood flow, which may worsen the cerebral edema.
"In treating foals with HIE, we often use something called fluid restriction, which is also used in human medicine. If you don't have a lot of fluids available in your body, you will not develop edema as readily. We restrict fluids, and try not to over-hydrate those foals. We think this is very important in treating them."
Bernard said that supportive care is extremely important. "If the foal is having seizures, we control the seizures," he said. "If the foal can't stand up, we must provide good nursing care, etc. With diligent and appropriate nursing care, many of these foals will recover." The prognosis for survival depends upon the severity of the initial insult and the progression of edema and cellular damage.
Recovery and prognosis
Foals that suffer only a minimal loss of recognition of the environment generally experience a gradual recovery over one to two days. "Prognosis is pretty good if people can afford and have the time to provide the therapy for these foals," Bernard said.
The labor and cost of taking care of such a foal might be high for the first few days of the youngster's life, but many foals will recover quickly and completely if no complications develop. "The prognosis for foals that have seizures is worse than for those that do not," Bernard said. "If seizures can be controlled, and adequate nursing care provided [and secondary complications avoided], the prognosis for those foals is good. When these foals recover, they do not seem to have any long-term adverse effects on growth or development."
A number of studies regarding foals with HIE currently are underway.
"We are doing a prospective study here, to try to compare a couple of different therapies," Bernard said. "We are comparing mannitol and fluid restriction in foals to the use of normal fluid administration and possibly the use of other things like DMSO. There are many studies in laboratory animals looking at the effects of different drugs on oxygen-deprivation damage to the brain. There are some models for the disease, in laboratory animals, in which different drugs have been tested.
"But at this point, there is no specific drug that works to alleviate the condition. Supportive care [keeping the foal nutritionally supported orally or intravenously] and trying to reduce edema and prevent secondary infections, are the goals."
Heather Smith Thomas is a free-lance writer based in Salmon, Idaho, specializing in veterinary and breeding topics.
Created By

Copyright sporthorse-data.com 2005-2020. All rights reserved data is protected by database right.