The Blueprint Of An Event Horse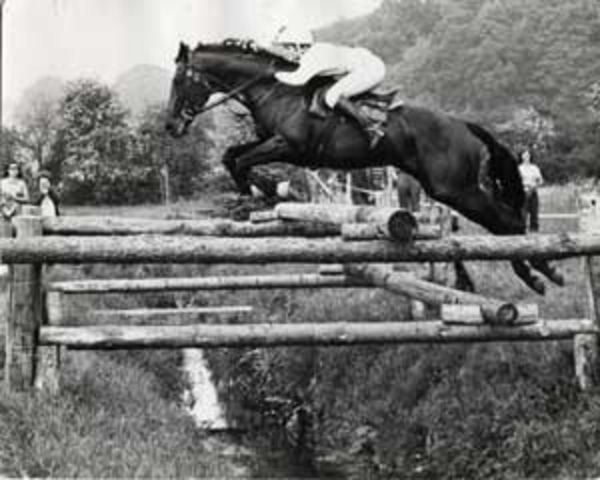 Dr Pete Birdsall of Equine Bloodlines
When selecting an event horse prospect, some of the most important considerations are type, soundness, boldness, movement, ridability and conformation. But, there are other factors that should be included in the selection process.
Pedigree evaluation can be an important part of predicting the suitability of a prospect for combined training.
For this study, the pedigrees of 61 of the most successful American-bred event horses from the last twenty years were evaluated to determine the genetic and performance background of these horses, and to explore any common factors that might be present.
Because the Thoroughbred dominates this discipline, not only in America but around the world, it is important to consider the influence and contribution of the breed. The horses included in this study were major competitors in America or winners of major competitions abroad. They are either American-bred event horses or event horses bred overseas from American stock.
In Europe a number of stallions like I'm a Star, Welton Louis, Welton Apollo, and Welton Crackerjack  have produced many highly successful event horses. In America relatively few horses are bred specifically for eventing. Because of this, in the United States, a stallion rarely has more than one 3 day event horses competing at higher levels of competition. There are a few stallions in America who are breeding for the eventing discipline and have consistently produced eventers. Horses like the
well-respected Babamist, sire of Good Force, Heyday, Mystic High and Snowy River, are in this category, but for the most part, the three-day event prospects are usually Thoroughbreds that have retired from a racing career.
In this study, the most common sire lines, those present most often in a four generation pedigree of successful eventers, were determined.
Next, the first and second generations, the parents and grandparents, of each horse are evaluated to determine their abilities on the track.  The number of starts on the track of each of these ancestors and the number of starts of their siblings are evaluated to determine if this would give any indication of a soundness or 'durability' factor. An in-depth study of the racing history of siblings can be useful and one should assess as many horses related to the event prospect as possible. The number of starts alone may not truly indicate the durability factor. It is also important to determine if related horses raced as two year olds, raced more than three years, raced without injury or prolong layoffs and also if these horses
retired sound.
Relative successes on the race track of each horse in the first two generations of each event horse was investigated to allow a comparison of these individuals to all other horses from their generation and other generations. The Standard Starts Index (SSI - see note below) determines the comparative successes of the  sires, dams and grand parents of each of the event horses.
As described by the Thoroughbred Times Stallion Directory, the SSI (Standard Starts Index) is a racing index based on the average earnings per start of runners in North America. SSI permits a comparison of racing performances of horses regardless of the year of birth or sex. It also takes inflation into account. It is calculated determining the average income per start for all foals of a given crop for each year they race. For example average earnings per start at age 2 for all colts foaled in 1960 was $400.00. A colt foaled in 1960 which averaged $400 per start at 2 years of age has an SSI of 1.0. A runner with an SSI of 1.0 is considered to be in the same class as any other runner with an index of 1.0. This allows a comparison of class between generations of horses.
Runners which have an SSI of 3.64 or above  are in the top 3% of all Thoroughbred runners ranked by SSI. These are considered to be a superior runner.
This study determined some criterion to be considered when selecting event horse prospects.
The pedigrees of top American-bred horses show that certain sire lines are prominent and are present with great consistency.
The most commonly found sires are Nearco and his son Nasrullah. This is not surprising as nine of the top ten event sires in the world in 1995/1996 descend from Nearco. This ranking was determined by the World Breeding Federation for Sport Horses and is compiled  from all breeds of sport horses worldwide. Also, Nearco and his son Nasrullah are very common in the pedigrees of a high percentage of racing Thoroughbreds around the world.
In this study Nasrullah was found in the four generation pedigree of one half of the event horses analyzed or present in a ratio of 1:2.
Other prominent sires lines included Nasrullah's 3/4 brother  Royal Charger who appeared at a 1:5 ratio. Mahmoud, Princequillo, Turn-To  were also present in one of five top event horses. Also of significance were the stallions War Relic, Hyperion and Native Dancer at a ratio of 1:8. Swizzle In and Squelch, recent winners of major international events in England and Ireland, both carry the blood of War Relic, as does the stallion Babamist.
The stallion Ribot is a frequent inclusion in the pedigrees of event horses at a ratio of 1:10. This is notable for when evaluating the pedigrees of show jumpers, Ribot is a very rarely found.
Other stallions found in a ratio of 1:10 in the pedigrees of the event horses being evaluated included Northern Dancer, Never Bend, My Babu, Heliopolis, Alibhai, Count Fleet and Khaled.
What is a blueprint of a Thoroughbred event horse?
Most event horses raced for one or two seasons with several starts but their SSI was quite low ranging from 0.00 to 0.85.
This indicates their winnings per start ranged from nil to dollar amounts much below that of other horses from their generation.
Only two of the event horses analyzed had an SSI that was above 1.0, which is the average winnings per start in comparison with their peers. Majestic Reef achieved as SSI value of 1.12, while the highest SSI achieved in the test group of leading event competitors was Tiger One with a SSI of 1.21.
Many of the event horses had siblings that had numerous starts on the race track, and some are still actively racing. The average starts per season in North America is 7.59 starts per runner. The siblings of many of the great event horses had 40 to 153 starts on the race track over several seasons, which, in conjunction with the other factors mentioned above, could be considered an indicator of the family's durability.
The sires of the event horses, in most instances, were stakes winners with successful racing careers. Two major event winners were sired by champions. Molokai was sired by Hawaii a Champion Grass horse and the sire of Worth the Trust, Wind and Wuthering, was a 2 yr old Champion in England.
The majority of the sires of event winners had SSI values above 3.64, classifying them as superior runners, which is the top 3% of the racing population. Most of the sires had an SSI rating that ranged from 3.5 to 13.0 with the highest SSI being the sire of Sky's Prospect, the stallion Tank's Prospect, with an SSI of 84.0.
Records show that the SSI of sires of event horses who were sired in the early 1970's were not as high as that of the  stallions who are siring the horses that are winning today. This is an indication of the higher class of horse that is required to compete in the discipline at this time.
Twenty percent of the leading event horses studied were sired by a stallion who had equalled or set track records, or set world records. Cinteelo, the sire of Squelch, set a track record at 8.5 furlongs while Horatius, sire of Pathfinder, equalled a track record at 8.0 furlongs.
Most of the affected track records were at 8 furlongs or less, although some of the sires did equal or set records at distances up to 12 furlongs. Tank's Prospect, sire of Sky's prospect, set a track record at 9.5 furlongs while Molakai's Hawaii set a record at 12.0 furlongs.
Many of the sires did show a creditable number of starts on the racetrack, many going to the post between 14 and 95 times . Also their siblings, sisters and brothers from the same dam as the event horse sires, like the event horses themselves, showed longevity in racing, many with 50 to 146 lifetime starts over several years.
The dams of the event horses also show some similarities.
Most of the dams had a very mediocre race track career, racing from 1 to 3 seasons with minor wins in most instances. The SSI values of these mares were low, usually from 0.0 (no winnings) to 0.65. A few dams were unraced. The dam of the event horse, Sky's Prospect, was a stakes winner of $70,000 with an SSI of 1.77, the dam of Nirvana was stakes placed with an SSI of 4.65 and Mashantum's dam, Gertie's Squaw, was a winner of $38,000 with an SSI of 3.78. These three mares were definitely exceptions.
Other dams with SSI values above 1.0, based on their racing abilities, include the dam of Brevity, Mashantum, Tiger One, Pennylane, Bartow Rainey and Ask Away.
Again, siblings of the dams often showed a major durability factor with exceptional numbers of racing starts in the family ranging up to 137 starts for an individual.
The second generation of the top competitors showed much the same patterns as the sires and dams.
The paternal grandsires of the event horses were almost always stakes winners and raced mainly from 2 to 4 seasons. Generally these stallions had SSI values higher than that of the event horse sires. The grandsire roster lists many classic stallions including Secretariat (113.28), Buckpasser (113.28),  Dr. Fager (108.16) and Never Bend (24.38), Sir Ivor, Raise a Native, Mr. Prospector, Nijinsky II, and Nasrullah . The paternal grandsires generally had a higher SSI than the maternal grandsires.
Again, the paternal grandsires included not only a number of champions but also many horses who had equalled or set track records. Although some of these track records were at distances up to 10 and 12 furlongs, most of the paternal grandsires set or equalled records at 8 furlongs or less.
This group of stallions also had siblings who raced many times, but the number of races was not as high as with the sires or siblings of the event horse, more in the  range of 40 to 90 starts.
Most paternal granddams were race horses, racing from 1 to 3 seasons. The SSI of this group of mares was quite variable ranging from 0.00 to the highest of 28.94, most with a SSI of less than 2.0.
 These mares' siblings also showed a longevity factor with many of their brothers and sisters having 60 to 160 racing starts in their lifetime.
Most of the sires of the dams (maternal grandsires) of the event horses in this project had raced and most were stakes winners.
They did not show quite as high a SSI as did the sires or paternal grandsires of the event horses but most SSI values did range from 3.00 to 62.91.
Like the paternal grandsires, some champions and classic stallions were maternal grandsires. This includes the Champion 3 year old in France, Vaguely Noble, as well as Mill Reef, Stage Door Johnny (62.91) and Pass Catcher (21.90).
Again many of the maternal grandsires were horses that had equalled or set track records and, like the sires and paternal grandsires, most records were at distances of 8 furlongs or less.
The majority of the maternal granddams had a racing career and many had numerous starts many of these mares having raced between 60 and 127 times over a 2 to 7 year period. Even with the numerous starts the mares did not have very high SSI values, the majority below 1.0 with the highest SSI achieved being 2.24.
These mares, like the other generations came from durable families with numerous starts on the race track. Many siblings of these mares raced from 50 to 220 times.
The few maternal granddams were unraced but their family showed longevity on the racetrack as measured by the number of starts of their siblings.
As previously noted, the Thoroughbred stallion Babamist is the most prolific sire of event horses in America. It would be remiss not to examine his background. He is the most influential sire of present day event horses in America.
Babamist raced four seasons having 13 starts and achieving an SSI of 1.69.
Babamist who raced over fences,  was from a family of steeplechasers. His half brother, Roi-a-Dan, was a successful steeplechaser who raced for three seasons. Babamist's dam Babadana was a half sister to Bab's Whey and Beau Shah both of who were winners of major races over fences.
Babamist was  a son of the French stallion Mystic II. Mystic II combines the French stallion line of Tourbillon with that of War Relic. He raced in France, Germany, Belgium and finally in the United States. He ran to the age of 7 winning at distances from 7 furlongs to 9 furlongs. Mystic II sired many major steeplechase winners including the Champion Steeplechaser, Soothsayer, as well as China Run, Life's Illusion and Mystic Lad.
In conclusion what can we determine from this information?
Certain bloodlines are found regularly in a 4 or 5 generation pedigree of leading world-class event horses and these lines should be sought.
In event horses, major racing successes as determined by stakes wins and SSI values in the males of the first and second generation is important. The presence of champions and speed horses who have equalled or set track records, mainly at sprinting distances, are important ingredients in the pedigree.
Preferably, sires should have an SSI above 3.54 indicating them to be in the superior racing class and in the top 3% of the racing population. This may not hold true in the case of those sires who have proven themselves as sires of numerous successful event horses.
Stallion and mare families should have numerous individuals who have had above average numbers of starts and have raced for several seasons. In many cases these horses who have had well- above average numbers of starts are not major money winners and may have a SSI value below the average of 1.0.
Although many dams and granddams did not have impressive race records in the event horses evaluated, it is important that they also are from durable families and those families with the best athletic abilities and soundness are the best bet. Some of the more successful event horses were from mares with SSI values above 1.0 and from mares who were stakes winners or stakes placed.
If more event horses were from higher quality mares, determined by racing achievements (such as stakes winners or stakes producers), it makes one wonder if these mounts would not be among the most successful in three day eventing.  In any case, when possible, offspring from the best producing mares with the above outlined criteria should be considered.
Event horses winning major events are result from a combination of families demonstrating both soundness and speed.
Although no attempt was made in this study to explore a relationship between the bloodlines of event horses and those of successful steeplechasers, similarities do exist.
A number of sires appearing in the pedigrees of the event horses in the study are involved in producing steeplechasers.
As mentioned, Mystic II was the sire of steeplechase champions. The Nasrullah son, Never Bend, sired the steeplechase champion Straight and True. Never Bend is the grandsire of the Australian event horses Sunburst and True Blue Girdwood, medal winners in 3- day eventing at the 1996 Olympics in Atlanta. Never Bend also appears in the pedigrees of the  merican-bred horses Sky's Prospect and Brevity.
Explode 2nd, the sire of the successful event mare Our Triliby, was himself a steeplechaser who set a course record at 17.00 furlongs.
Several of the sires of the event horses in the study have also sired winners of races over fences in the United States. These stallions include Majestic Light, Horatius, L'Amour Rullah and Lear Fan.
When evaluating a combined training prospect, how can this pedigree and performance data be obtained?
The Performance Horse Registry, an affiliate of the Jockey Club in Lexington, can supply this information on request. As their sport horse database expands more information regarding the performance records of horses will be available.
Evaluating a new purchase for eventing using some of the criterion above, as well as examining the usual physical aspects of the individual, can lead to a better chance of success in combined training competition.
Editor's Note: The Performance Horse Registry is now a wholly-owned affiliate of USA Equestrian and is no longer linked to the Jockey Club.
 
 
Created By

Copyright sporthorse-data.com 2005-2020. All rights reserved data is protected by database right.