Bay Ronald - Part One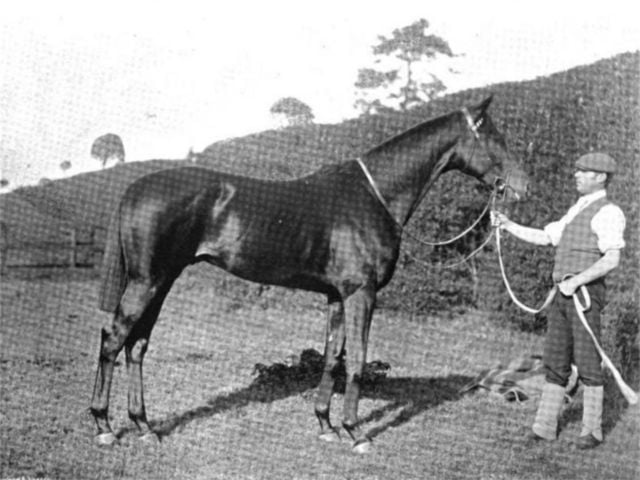 Bay Ronald by CM Frank
The names of Dark Ronald and his outstanding offspring Son-in-Law come readily to the minds of Holsteiner breeders, but what was the actual significance of these two stallions and their close relatives in the development of the modern sport horse? An email correspondence between myself and Linda Franz inspired us to research the answer to the question, "Who WAS this horse?" In a series of articles on sport horse sire lines originally published in The Chronicle of the Horse, Dr. Peter Birdsall, DVM, covered the Dark Ronald line and its impact on the sport horse in depth. However, to begin the story of the sire line with Dark Ronald, and not with his sire, Bay Ronald, serves to completely eliminate the influence of Hyperion--a tremendous source of jumping ability--from the equation. So, we'll begin our tale with a brief look at the progenitor of this remarkable line--Bay Ronald himself               
"From time to time, sires without superior (racing) credentials score surprising success at stud. Since all of us love bargains, these cases hold an hypnotic fascination for breeders. Cases of this sort include...Bay Ronald, sire of Bayardo, Dark Ronald and Rondeau, etc.," writes Abram S. Hewitt, in his important historical work Sire Lines, which was published in 1977.
No doubt the fact that Bay Ronald's sire Hampton began life as a hurdler had some thing to do with the jumping ability which predominates in this line. Thoroughbred Breeding of the World (published in West Germany in 1970), has this to say about Bay Ronald: "Hampton, the little fellow who started off as a hurdler, sired Bay Ronald who became one of the great influences on the Thoroughbred. Bay Ronald was kept in training for four years, and he more than earned his keep. He was not much of a two-year-old, his successes came later. He won the Lowther Stakes, the Limekiln Stakes, the City and Suburban Handicap and, when 5 years old, the Epsom Cup. Bay Ronald is best described as a more than useful handicapper, although this not very handsome colt was given a chance in the Derby. His sire had made a wonderful name for himself, having sired three Derby winners, and naturally, Bay Ronald was given his chance at stud. He founded a line that is still flourishing; his sons--Bayardo, Dark Ronald (whose son Son-in-Law was a tremendous success), and MacDonald II--perpetuated the line founded originally by The Darley Arabian."
Eventually, Bay Ronald lived up to the reputation of his sire, ranking second and third on the leading sires list.
"Before his genuine prepotency was truly proved, he (Bay Ronald) was sold to France for £5,000 where he became successful," Thoroughbred Breeding of the World continues. "This handicaper was a much better horse at stud than many a Derby winner. In France he sired the mare Rondeau, dam of Teddy. Teddy became one of the most important influences in France, Great Britain, Italy and the USA." Bay Ronald' s dam, Black Duchess, was also the third,dam of Blandford, sire of four Derby winners in eight years Trigo, Blenheim II, Windsor Lad, and Bahram (sire of Persian Gulf, the grandsire of the Holsteiner sire Marlon xx).
Strangely enough, this stallion who is so indelibly associated with German breeding was actually bred by Edward Kennedy in County Kildare, Ireland. This is the same Edward Kennedy who bred The Tetrarch--one of the fastest horses ever to set foot on a racetrack. The Tetrarch's daughter, the equally fast Mumtaz Mahal (nicknamed the "Flying Filly"), was the progenitor of such important stallions as Nasrullah (through her daughter Mumtaz Begum), Royal Charger (through Mumtaz Begum's daughter, Sun Princess), and Abernant who sired the steeplechaser and warmblood sire, Abgar (through her daughter, Rustom Mahal).
Thoroughbred Breeding of the World reports that, "Dark Ronald was sold by his breeder Mr. E. Kennedy at the Doncaster yearling sales (of 1906) to Sir Abe Bailey for the then remarkable sum of £1,300. As a two-year-old he won the Hurst Park Foal Plate and then broke down, which was the reason for his not appearing at all as a three-year-old. He then won the Royal Hunt Cup and the Princess of Wales Stakes in Newmarket as a four-year-old. After three years at stud in Tickford Park Stud he was bought by the well-known Oberlandstallmeister Burchard von Oettingen for the sum of£25,000 for the Prussian Staatsgestiit Graditz."
According to Henk Dikkers, one of our correspondents in The Netherlands, the Graditz Stud was very important for German warmblood breeding. "They bred horses for the races so that the horses were tested for performance and soundness (in order) to upgrade German Thoroughbred breeding and (to produce) stallions suitable for warmblood breeding ("Landespferdezucht"). Their horses all had to have good conformation. Naturally, Dark Ronald (and also his descendants) were horses with very good conformation."
Dark Ronald was produced from Thoroughbred family number 9, as assigned by Australian statistician Bruce Lowe's system. (The Holsteiner Verband was not alone in numbering its female families). Apparently, Lowe had little regard for this particular family. According to Abram S. Hewitt, "Bruce Lowe seemed positive that the No. 9 family of mares could never produce a good sire. (Yet), within a few years, there appeared from the No. 9 family Cyllene (sire of four Derby winners in eight years in England), Star Shoot (five time leading sire in America), Fair Play (sire of Man o'War) and Dark Ronald (the most influential sire in the history of the German turf)."
Thoroughbred Breeding of the World concludes: "In Germany the son of Bay Ronald developed into the most successful imported stallion of all times, mainly because of his outstanding sons, Prunus, Herold and Wallenstein. His progeny which was sired in England won over 70 races and £30,000. His son Magpie, who was exported to Australia, became there one of the greatest sires ever. In all Dark Ronald, his sons, Prunus, Herold and Wallenstein as well as his grandson,Oleander (by Prunus), won no fewer than 22 breeding championships. As sire of successful horses Dark Ronald was champion (sire) five times, twice second and once third."
Son-in-Law
It was not through his German born sons, however, that Dark Ronald made his most lasting impression in the sport horse world. Son-in-Law, was bred in England prior to Dark Ronald's exportation to Germany, and was described as a "plodding distance horse," (or a horse with plenty of stamina but little real speed), though he became an important sire. His offspring were known to be late maturing and he was considered the best source of stamina in Great Britain, siring many classic winners. Son-in-Law's influence through his daughters resulted in some of the world's leading sires, including Fair Trial and Round Table. As a sire, Son-in-Law was prepotent for tremendous stamina, a quality which is frequently found in partnership with jumping ability and steeplechasing successes.
"In Holstein they have always looked out for Thoroughbred stallions (in England and Ireland) with the blood of Dark Ronald and Son-in-Law so that they would match their own German Dark Ronald strains," Henk Dikkers reports.
It was obviously a desire to capture more of this precious blood which led to the importation of three of Schleswig-Holstein' s most influential sires--the Thoroughbreds Cottage Son (a grandson) and Ladykiller (through his second dam), and later the Anglo Norman, Cor de la Bryere, by Rantzau (a great grandson of Son-in-Law). Corde's grandsire, Foxhunter (a grandson of Son-in-Law) also sired Hunters Moon IV, who sired Neji, a Champion Steeplechaser in the United States--proof that the genes for sport were still active within the line.
Beau Pere
Son-in-Law's son Beau Pere was perhaps one of the latest maturing plodders ever produced by the sire line. He failed to start at two, ran seven times at three (winning once) and at four he won two out of four starts. His lifetime earnings totalled just over 1,000 pounds. In his first two foal crops Beau Pere sired six foals, of which two were extremely minor winners, and he was subsequently sold to New Zealand for 500 pounds.
Beau Pere was an immediate success, topping the leading sire list twice after just three seasons--including leading two-year-old sire with his first crop. He was then sold to Australia where he also became a leading sire for three more years in succession. Motion picture magnate Louis B. Mayer purchased him and exported him to California where he continued his tremendous career. Beau Pere's daughter Iron Reward became the dam of one of racing's most brilliant stars and California's favorite son, Swaps. Through his sons and daughters Beau Pere produced some of America's top show jumpers, including: Mary Chapot's Olympic Silver Medalist White Lightning (by Beau Pere' s grandson Grey Tower); Katie Monahan' s Encore, whose dam, Shirlee Steel is by the Beau Pere son, Polished Steel. (Shirlee Steel is also the dam of Kerry Millikin's Holsteiner mare, Landlady, who was recently short listed for the USET Three Day Pan Am Games Team of 1999). Beau Pere's son Doctrine sired Sundancer (a two time winner of the American Invitational) and his full brothers Easy Doc (a member of the Canadian Equestrian Team) and Turn on the Sun (a member of the British Equestrian Team). Doctrine's daughter, Mity Doc, produced the Oregon-bred international show jumpers Revlon Adam and his full brother, Mity Wind, who is now in Europe and licensed by Studbook Zangersheide.
Beau Pere's success as a sire of jumping horses is not surprising when one considers that his pedigree contains three crosses of Hampton. (Remember the little leading sire who began life as a hurdler?) Two of those crosses are through daughters of the important producer, Quiver--Maid Marian (dam of leading sire Polymelus) and La Fleche (winner of the One Thousand Guineas, Oaks, St. Leger, etc. and one of the fastest fillies ever to race in Great Britain).
Dark Legend
Dark Ronald' s influence in other warmblood studbooks appears to be mainly through daughters of his grandson, Herold, by Dark Legend. One HeroId daughter produced Der Loewe--one of the leading sires in the Hanoverian breed. Der Loewe sired the jumpers Leporello and Der Lord and the stallions Lugano I (sire of the BWP licensed Lugano van la Roche who produced the international horses Egano, Darco, Alemao, and La Ina, etc.), Luxus, etc.
Another influential sire, Abendfrieden, is out of a daughter of Herold. Abendfrienden produced the legendary Thoroughbred sire Pik As, founder of the Hanoverian line which includes Pik Koenig (sire of the dressage producers Pik Bube and Pik Solo), Pik Junge, and Pikor, as well as Perser and Erdball (grandsire of Robert Dover' s dressage horse, Federleicht).
On this side of the Atlantic, Rosy Legend (by Dark Legend) is the second dam of The Hammer, a stallion who sired the USET jumper Sympatico (who set a Puissance record at 7'4", was a Silver Medalist at the Pan American Games, and the leading grand prix jumper in the U.S. from 1972 to 1975), Golden Gavel (USET jumper and International Jumper Champion at the Washington International), etc. Dark Legend also sired Easton, whose name is familiar in North American jumper pedigrees. Easton' s daughter produced Smart Apple, sire of the USET jumper and Olympic Silver Medalist Fleet Apple, and Jean's Bunny, the dam of another USET jumper, Nazarius.
Sources:
Bloodlines of Hunters and Jumpers in North America, by P.H. Birdsall DVM. Printed in 1981, by P.H. Birdsall DVM.
Bloodstock.' Breeding Winners in Europe and America, by James Gill. Printed in 1977 by Carter Nash Cameron Limited and Arco Publishing Co., Inc. NY.
Sire Lines, by Abram S. Hewitt. Printed in 1997 by The Blood-Horse Library, for the Thoroughbred Owners and Breeders Association.
The Compendium of Sport Horse Bloodlines, by P.H. Birdsall DVM Printed in 1987, by Equine Bloodlines, Brantford, Ontario, CAN.
The History of Thoroughbred Racing in America, by William H.P. Robertson. 1964, Bonanza Books, NY.
Thoroughbred Breeding of the World, by Martin E. Eversfield, John Aiscan, Dan M. Bowmar III, M. Noirot-Nerin, Tsuneo Usami, F. Landes, K.C. Stewart, Peter Nicolle, Bert Lilley, Harald Siemen, Erich Siegel. Editor-in Chief Rainer L. Ahnert. Edited by Direktorium fuer Vollblutzucht und Rennen, KoIn, Podzun-Verlag, 6364 Dorheim/H., West Germany. Printed in 1970.
Many thanks to Linda Franz for her pedigree research for this article, and to Henk Dikkers for his comments and the exerpts from Thoroughbred Breeding of the World.
Created By

Copyright sporthorse-data.com 2005-2020. All rights reserved data is protected by database right.