Dressage fillies the bestsellers at the Elite Foal Auction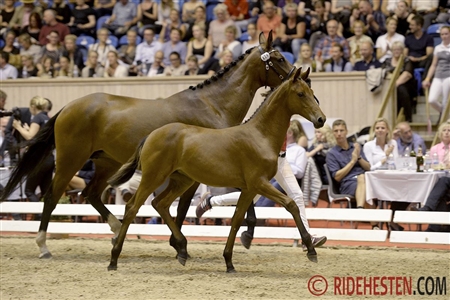 83% of the foals sold at the Danish Warmblood Elite Foal Auction. A Franklin daughter became the price highlight selling for 47,000 EUR
Auctioneer Casper Cassøe auctioned 83% of the foals at an average price of 80,000 DKK which equals 10,775 EUR. The 59 foals which sold produced a turnover of 3.92 million DKK equalling 526,000 EUR.
 
The foals went to countries like Australia, Norway, Sweden, the Czech Republic and the USA. Among the buyers based in Denmark were Andreas Helgstrand and several of his riders like the Spanish Olympian rider Severo Jurado.
 
A couple of foals achieved top prices whilst most sold for prices in the neighborhood of 10,000 EUR. The two most expensive foals were both dressage fillies; the super functional mover Lissau's Ginger by Franklin x Sandro Hit went for 350,000 DKK (47,000 EUR) to Norwegian young rider Alexandra Andresen, and the sought-after breeding prospect Straight Horse Zarina by Blue Hors Zalabaster x Blue Hors Don Schufro sold for 200,000 DKK (27,000 EUR) to Jane Bartram, Australia. This filly is out of the same dam as the only triple world champion for young dressage horses, Sezuan whose full sister became Dressage Mare of the Year on the Sunday.
 
Third highest price of 170,000 DKK (23,000 EUR) was paid for Springborgs Guytino by Dante Weltino x Fürst Romancier which was purchased by Californian based dressage rider Laura Brandt. All of the show jumping foals in the collection changed ownership, and the most expensive was Constantin VH by Conner x Clinton I sold for 110,000 DKK (14,775) to Niels Osterland, Denmark.
Created By

Copyright sporthorse-data.com 2005-2020. All rights reserved data is protected by database right.