International Sport Horse Data for Genetic Evaluation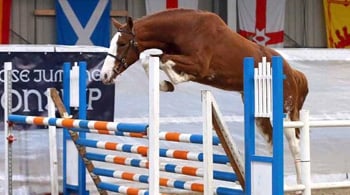 The aim of this thesis was to evaluate international sport horse data for use in genetic evaluations both within populations and between populations. An initial review showed that most sport horse producing breed organisations have created young horse testing schemes.
Due to moderate to high heritabilities and highly positive genetic correlations with competition results later in life these tests are good tools for selection and suitable for use in genetic evaluations. Efficiency in testing and selection could be improved by including both sexes in young horse tests where this is not yet done, and by shortening tests, where long test periods are practised.
Genetic connectedness among populations is an essential prerequisite for any kind of assessments of data between them. Genetic connectedness among the five investigated sport horse populations in this thesis is at such a level that it would be feasible to use their national breeding values based on young horse data in international genetic evaluations for estimation of genetic correlations among similar phenotypic traits. This is possible if correct and internationally unique IDs of horses can be established.
Genetic correlations were estimated between phenotypically similar traits tested in Danish Warmblood (DWB) and Swedish Warmblood (SWB). They were highly positive for performance traits and reliabilities for the corresponding breeding values generally became higher when using information from both countries. Thus, mutual use of nationally calculated EBVs was considered possible when stallions are evaluated for use across countries. Moreover a joint genetic evaluation using MACE would be feasible and beneficial for both DWB and SWB.
To evaluate how foreign genetic material should be handled in national genetic evaluations, the influence of foreign stallions on the SWB and its genetic evaluation was studied. Origin of stallions has had significant effects on the genetic improvement of jumping traits in SWB. Inclusion of genetic groups in the genetic evaluation resulted in hardly any re-ranking, but less reliable breeding values; hence it was not recommended as a standard procedure. Complete pedigrees of foreign stallions proved to be much more important than genetic grouping to avoid bias in their EBVs. + Continue Reading  (pdf document 179kb)

Created By


Copyright sporthorse-data.com 2005-2019. All rights reserved data is protected by database right.